RC Toys
Radio controlled fun on land, air, and water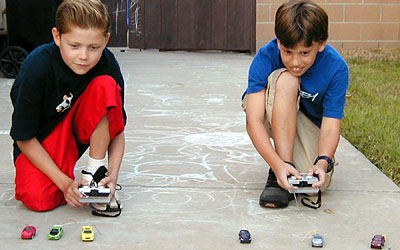 RC Shark - Radio-controlled floating illuminated shark - make this deep sea creature hunt down family member in the dark.
Hotwheels RC Stealth Rides - Radio-controlled vehicle fun anywhere and everywhere.
New Bright RC - Brand name scale vehicles with remote control joystick.
Tonka Ricochet RC - Remote-controlled two-sided stunt vehicle.
Thomas's Light Up Lantern Remote - Control Follow Me Thomas the Train by pointing a light the way you want him to go.
Cyclaws RC - Rough terrain remote control vehicle with transforming claw technology.
Bigfoot the Monster - RC toy listens, walks, and responds to your commands.
Video Camera Helicopter - Air Hogs Hawk Eye RC video camera spy helicopter.
JLX Overdrive - With ultra fast motor, green rc vehicle travels at race car speeds over dirt, water, snow, and big air.
Switchblade from Airhogs - Air Hogs RC radio-controlled Switchblade transforming stunt flier.
RC My Little Pony - Radio-controlled scooter for popular pony action figure.
Spinblade RC Helicopter Radio Shack Spin Blade RC Indoor Helicopter flies from floor to ceiling.
Yamaha RC ATV Radio Shack Yamaha Raptor 660R RC ATV.
Rebound Superbike RC motorcycle vehicle from Tyco.
Fastlane RC Navigator Fast Lane rechargeable RC vehicle.
Morphinator RC radio-controlled transforming vehicle from Nikko.
Zero Gravity Wall Climber radio-controlled Air Hogs vehicle climbs on walls.
Fly Wheels RC extreme radio control performance from Road Champs.
Shell Shocker radio controlled alien cyber beast machine attacks with its tail and and transforms by turning its shell inside out for traction.
Nylint Rock Crawlers durable extreme sport radio control vehicles handle vertical challenges that cross their paths.
Shadow Shifter RC transforming stealth ship from MGA features Mabuchi motor for aquatic speed and nautical stunts including spins.
Tarantula RC radio control vehicle with folding arms and rugged tread design for climbing obstacles including stairs.
Road Rippers Hummer RC motorized voice control activated technology super sport trailer set, rescue vehicles, and H2 with realistic sounds.
Alien Racers radio control vehicles with four different frequencies for Gnarl, Grog, Skrash, and Ultrox so you can race them.
Terrain Twister Tyco RC vehicle with corkscrew treads and pivoting pontoons treks through grass, dirt, sand, water, and snow.
Hover Copter radio controlled personal RC UFO wireless flying saucer flies over twenty-five feet high and comes with recharging dock.
Beyblade Engine Gear Revolution toy challenge tops designed with both increased speed bursts and endurance for play in the stadium arena.
Morph Machines toy from the Apprentice that can be transformed and customized will be manufactured by Mattel for Tyco RC line.
ZipZaps was the first line of micro RCs.
Air Hogs RC Intruder

Airplane - RC

Airplane - Non-RC

Air Hogs Resistor

Air Hogs Sky Patrol RC Helicopter

B-2 Bomber

Battle RC Air Rebound

Beyblade RC Set Stadium Arena

Beyblade Remote Control Top with Launcher

Extreme Racepack Micro Racers

Burnout Knex

Goofy Giggles

Goofy Jalopy

Land Sea RC

Fire Truck

Forklift

Land Air RC

Micro Blast Racers

Missile Launcher

Monorail

Motor Scooter Samantha

Mutator RC

Power Air Surfer

Phat Boyz Cars

Race Car

RC Hummer

RC Intruder Plane

RC Regenerator

RC Boats

Regenerator RCs

Rewinder Vehicle from Tyco RC

Slitherin Jake

Scooter Shannon

Skateboard Shannon

Stunsters

RC Speedboat

Super Slicks Mini RC

RC Tank

Starter Plane

Hawk Skateboard

Tyco RC Mini Cycle

Tyco RC Stuntsters

Tyco RC Whiplash Vehicles

X-Treme Cycle

XFO Vehicle from Tyco RC

WWE Stunt Action Ring

Vertigo RC

Zip Zoom Shannon