Beach Bucket Set
5 Piece Round Bucket Set by BRIO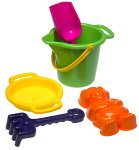 5 piece set from Brio includes large bucket with spout sieve, spade, rake and sand mold. Assorted fashion colors. The beach play set is an all-in-one package designed to provide children with endless enjoyment and creativity at the beach. This vibrant set includes the following essential components:
Bucket with Spout: The colorful bucket comes with a built-in spout, allowing children to pour water or sand with ease. It's perfect for building sandcastles or creating water channels, offering both fun and control.
Sieve: Attached to the bucket or used separately, the sieve is designed to sift and separate sand or water. It adds an extra layer of exploration and discovery, as children can observe different textures and materials.
Spade: The spade is a must-have tool for digging and scooping. Its child-friendly design ensures a comfortable grip, making it easy for little hands to use. It's ideal for shaping sand structures or digging holes.
Rake: With the rake, children can create various patterns and textures in the sand. It encourages creativity and fine motor skills, as children can draw pictures or create waves in the sand.
Sand Mold: The sand mold adds a touch of imagination to the play. Whether it's a sea creature or a geometric shape, the mold allows children to create specific figures in the sand, enhancing their artistic expression.
This beach play set is crafted from durable and child-safe materials, ensuring hours of safe play. The combination of tools inspires children to explore, build, and enjoy the beach environment to the fullest. It's an ideal gift for young beach lovers and a wonderful addition to any family beach outing.