Beach Chair for a Boy
Hot Wheels Beach Chair and Carry Bag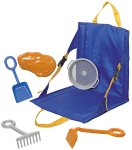 With Hot Wheels, a trip to the beach can be lots of fun, especially with the Beach Chair and Carry Bag combination. This child size beach chair is filled with toys for the beach, including; Hot Wheels sand mold, sand sieve, shovel, rake, and hoe. The tough and sturdy high back beach chair simply folds up to become a carry bag for all of the beach toys.
The folding beach chair and carry bag combination is a unique and innovative beach accessory designed to provide both comfort and entertainment. It combines the functionality of a relaxing beach chair with a carry bag filled with exciting beach toys. Here's what the set includes:
Folding Beach Chair: The beach chair is lightweight and foldable, making it easy to carry and set up. It's designed with durable fabric and a sturdy frame to ensure comfort and stability. Perfect for lounging by the sea and enjoying the sun.
Carry Bag: Attached to the beach chair, the carry bag offers convenient storage for all the included beach toys. It's spacious and features compartments to keep everything organized. The bag can be detached and used separately if needed.
Beach Toys:

Sand Mold: Create imaginative shapes and figures in the sand with the fun sand mold. It adds a creative touch to sand play.
Sand Sieve: Explore different textures with the sand sieve, perfect for sifting sand and discovering hidden treasures.
Shovel: The shovel is designed for digging and scooping, allowing children to build sandcastles or dig holes with ease.
Rake: With the rake, children can create patterns and designs in the sand, enhancing their artistic skills.
Hoe: The hoe is a versatile tool for shaping and smoothing the sand, adding a professional touch to sand structures.
This folding beach chair and carry bag combination is a must-have for beach enthusiasts. It offers relaxation and endless fun for children with its array of beach toys. Crafted from high-quality materials, it ensures durability and safety.