Beach Chair for a Girl
Barbie Beach Chair and Carry Bag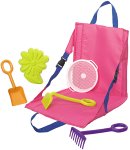 It is a beautiful day for the beach, especially with the Barbie Beach Chair and Carry Bag combination. This chair, sized for a little girl, is filled with toys for the beach, including; Barbie sand mold, sand sieve, shovel, rake, and hoe. The comfortable high back beach chair simply folds up to become a carry bag for all of the beach toys.
The pink folding beach chair and carry bag combination is a delightful beach accessory designed to make every beach outing a joyful experience. With vibrant pink color for the chair and carry bag, and colorful beach toys, this set is sure to captivate the hearts of young beachgoers. Here's what the set includes:
Pink Folding Beach Chair: This beach chair is designed with a vibrant pink color, perfect for little ones to lounge and enjoy the seaside view. Lightweight and foldable, it's a convenient addition to any beach outing.
Pink Carry Bag: The matching pink carry bag offers convenient storage for all the included beach toys. It's spacious and designed with compartments to keep everything organized. The bag can also be detached and used separately, adding versatility to the set.
Colorful Beach Toys:

Green Palm Tree Sand Mold: Shaped as a palm tree, the green sand mold allows children to create imaginative tropical shapes in the sand.
White Sand Sieve: The white sand sieve is perfect for sifting sand and exploring different textures, adding a sensory experience to playtime.
Orange Shovel: The orange shovel is designed for digging and scooping, allowing children to build sandcastles or dig holes with ease.
Purple Rake: With the purple rake, children can create patterns and designs in the sand, enhancing their creativity.
Yellow Hoe: The yellow hoe is a versatile tool for shaping and smoothing the sand, adding a professional touch to sand creations.
This pink folding beach chair and carry bag combination, along with the colorful beach toys, promises hours of imaginative play and beach enjoyment. Crafted from high-quality materials and designed with children's safety in mind, this set is a must-have for a fun-filled beach adventure. It's the perfect gift for young beach enthusiasts and a great way to add color and excitement to a day at the beach.