Big Scratch Lil Scratch
Robotic dog and puppy friend.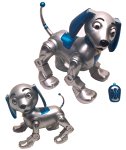 Meet Big Scratch, the only robotic dog that comes with its very own puppy friend, Lil' Scratch, for hours of delightful family enjoyment. These power pooches have the distinction of being the only toy pets to come with their very own dancing cyber fleas. Tons of outstanding features enhance Big Scratch's playability: he comes with an infrared key-chain remote controller that programs his seven multiplay and trick modes. Modes are sit, shake, lay down, play, walk right, walk left, and scratch-a-flea. He has multiple play behaviors, depending on his mood, and, of course, his own interaction with you, his master. Lil' Scratch follows Big Scratch around wherever he goes, using infrared tracking. He walks left or right, looks around with his cute, loveable eyes, nods his head, flaps his ears, and wags his tail. He also moves his mouth while he happily barks, pants, or is heard whimpering or whining, depending on his mood.