Robotic Pets
Robot pet store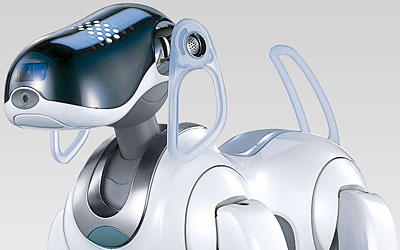 Sony's Entertainment Robot America is delivering a highly evolved third generation robotic dog.
Zoobles - Little creatures that hide in balls and activate when they hit hot spots.
So Soft Star Song - Plush My Little Pony - her star lights up the night.
D-Rex - Interactive dinosaur reacts to your voice and has two modes: guard and prank.
Screature - Interactive dinosaur is the mean predator with a big attitude.
Zambi the Baby Elephant - Furreal Friends robotic plush elephant helps kids in Africa.
Spike the Dinosaur - Only you can remote control Spike the ultra dinosaur as he rocks the floor.
Wowee Alive Pups and Cubs - Robotic plush wild animals make realistic baby animal sounds.
ZhuZhu Pets - Play all day with fun hamster robotic pets.
Fur Real Friends Kitty Cat - Lifelike robotic kitten purrs and moves.
Swim to Me Puppy - Little dog swims when placed in the water
Pleo Dinosaur Robot equipped with sight, hearing, and touch, robotic dino explores his environment and reacts to sensory stimuli.
Tumble Time Tigger sound activated plush tiger responds to your voice.
Smoochie Puppy Fur Real Friends smoochy puppies.
Scamps My Playful Pup Fur Real Friends realistic plush puppy responds to commands with tricks and barks.
Robopet sound and motion sensors enable robotic pet to respond to sound and movement.
Pound Puppies here puppy dog toy comes when you call.
Roboraptor robotic dinosaur walks around the house in an auto mode.
Blinkies interactive virtual friend pets that you take care of and play with by responding to their eye expressions through sensor points.
Love Cubs baby panda, polar, and brown bears from Fur Real Friends drink from bottles with realistic interactive sounds and actions.
Big Scratch Lil Scratch - Robotic dog and puppy friend.
Boomer the Tekno Puppy - Boomer is a very realistic and colorful dog that acts just like the real thing.
For Real Friends Fur Kittens - Convincingly like a real cat.
Kitty Magic - She really talks.
Kitty Robotic Tekno Kitten - How to buy a robotic kitten at a discount.
Me and My Dog Shadow - A nice cuddly pup who obeys your command.
Meow Chi Robot Kitten Meowchi Interactive Cat - Meow-chi robotic kitten is lots of fun.
Micropets - Micropets Become Hot Collectibles.
Muy Loco Remote Control Lizard - Boogies to the beat.
Polly Tekno Parrot Robotic Techno - Polly the Tekno Parrot can think for himself and will act and say things differently depending on what is happening to him.
Poo-Chi Puppy Robot Poochi Dog Poochy - Poo-Chi is a robotic dog that fits in the palm of your hand.
Puppy Magic - Mom doggy interacts with her three puppies.
Rocket the Wonder Dog - Remote controlled.
Slitherin Jake the RC Snake Slithering - Slithering Jake is a two-toned bright green cobra that comes to life via the use of a wireless remote control unit.
Super Poo-Chi - Almost twice as big as the original Poo-Chi.
Tekno the Robotic Puppy - Various commands, buttons, and actions lead to an entertaining assortment of walks, barks, yelps, tail-waggings, and even words.