Blo Pens Deluxe - Blow Paint Stencil Blowpens
Creative Activity Kit with Bonus Blo-Pens and Stencils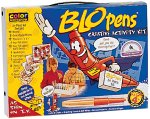 Like miniature cans of spray paint, the pens in this 50-piece Blopens activity kit can be used to make a wide variety of colorful stencil and airbrush pictures. The kit contains 15 pens, including five color-changing ones, and 23 precut stencils. Each pen is filled with nontoxic, washable ink. By blowing into one end of the pen young artists can create a colorful airbrush effect on paper. A sturdy cardboard workstation that holds all of the pens has been included, along with eight sheets of paper, a carry case for the whole set, and an instruction and idea booklet.
Blo Pens are innovative and entertaining art tools that have captured the imagination of young artists. By simply blowing into one end of the pen, children can create stunning airbrush effects on paper. Here's why Blo Pens are considered a fun and engaging tool for young artists:
Unique Airbrush Effect: Blo Pens offer a unique way to create art by utilizing the breath to spray ink onto paper. This airbrush effect allows for the creation of soft, blended colors and intricate patterns that are not easily achievable with traditional art tools.
Encourages Creativity and Experimentation: With Blo Pens, children can experiment with different blowing techniques, stencils, and color combinations. This encourages creativity and helps them discover their own artistic style.
Easy to Use: Blo Pens are designed to be user-friendly and accessible to children of various ages. The simple act of blowing into the pen allows even young children to create beautiful artwork without the need for advanced skills or techniques.
Enhances Breath Control: Using Blo Pens requires children to control their breath, which can help improve lung capacity and breath control. It adds a physical dimension to the artistic process, making it a multisensory experience.
Safe and Non-Toxic: Blo Pens are typically made with non-toxic, washable ink, ensuring that they are safe for children to use. Parents and educators can feel confident allowing children to explore and create with these tools.
Collaborative Play: Blo Pens can be used for collaborative projects, allowing children to work together and share ideas. This fosters teamwork, communication, and social interaction.
Integration with Other Art Forms: Blo Pens can be combined with other art materials and techniques, such as drawing, painting, or collage. This versatility encourages children to explore various artistic expressions.
Portable and Convenient: Blo Pens are compact and easy to carry, making them a convenient choice for art on the go. Whether at home, school, or traveling, children can enjoy creating art anytime, anywhere.
Blo Pens provide a novel and enjoyable way for children to express themselves artistically. The combination of breath control, color blending, and creative experimentation makes them a valuable addition to any young artist's toolkit. They not only foster artistic creativity but also provide opportunities for physical development and social interaction. Blo Pens are more than just a fun novelty; they are a versatile and enriching art tool that can inspire and empower young artists.