Bratz Music
Genie Magic CD features kids pop songs from the DVD of the same name and from the Saturday morning television series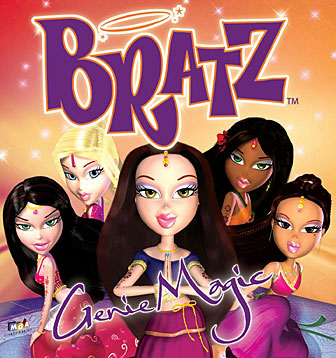 The Bratz -- Yasmin, Cloe, Jade and Sasha, The Only Girls With A Passion For Fashion, made their musical debut in 2005 with Bratz Rock Angelz, which became a staple on the Billboard charts for the rest of 2005. In addition, the Bratz headlined a hit DVD and video game of the same name, as well as starring in the highly rated Saturday morning series Bratz on 4Kids TV on FOX. On April 11, 2006, 20th Century Fox Home Entertainment released the newest Bratz DVD feature Bratz Genie Magic. On that same day the brand new album also entitled Bratz Genie Magic, was released by Hip-O/UMe.
The album included five songs featured in the new DVD (Make You Wanna Dance, Never Gonna Give Up, The Way We Shine, Life's A Wild Ride and All Together) as well as songs from the Bratz TV series, including the popular TV theme song. The earlier Rock Angelz CD rocketed to number one on the Kid Audio chart and debuted in the Pop 100.
Pop writer-producer Matthew Gerrard penned all of the songs on Genie Magic. Currently, Gerrard's Start Of Something New can be heard on the number one album in the country, the soundtrack to the Disney Channel original movie High School Musical.
The Genie Magic album embraces the Bratz philosophy of self-expression with songs such as The Real You, Invincible, When We're All Together, and Makin' It Happen.
The Bratz dolls are renowned for their fashion-forward sensibilities that reflect contemporary trends and styles. Their trendy outfits, accessories, and makeup choices exemplify the latest in fashion, encouraging creativity and self-expression among young enthusiasts. The dolls also introduced the concept of mix-and-match fashion, empowering kids to customize the dolls' looks according to their preferences.