Bratz
Dolls with a passion for fashion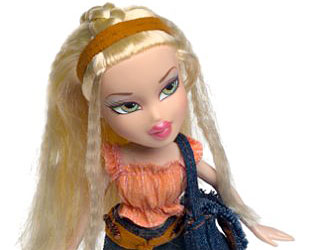 Bratz dolls were a sensation, particularly among tweens, for various reasons.
Fashion-Forward Design: Bratz dolls were known for their trendy and bold fashion choices, reflecting contemporary youth culture.
Diverse Characters: The Bratz line included dolls of various ethnicities and backgrounds, promoting inclusivity and representation.
Customizable Appearance: Many Bratz dolls came with interchangeable clothing, shoes, and accessories, allowing for personalization and creative expression.
Edgy and Unique Aesthetic: With their distinctive large eyes, full lips, and sassy expressions, Bratz dolls stood out from other dolls on the market.
Themed Collections: Bratz released various themed collections, such as rock stars, holiday editions, or beach parties, keeping the line fresh and exciting.
Associated Media: The Bratz brand expanded into movies, TV shows, and video games, creating a multimedia experience that resonated with tweens.
Empowering Messages: Bratz dolls were often marketed with empowering slogans and messages, encouraging confidence and individuality.
Collectible Nature: With limited editions and special releases, Bratz dolls became collectible items, encouraging fans to acquire multiple dolls.
Targeted Age Group: Specifically designed for tweens, Bratz dolls filled a niche between traditional children's dolls and teen interests.
Collaborations and Celebrity Endorsements: Collaborations with designers and endorsements from celebrities added to the brand's appeal and credibility.
Interactive Website and Social Media: Bratz's online presence, including interactive websites and social media, connected with the tech-savvy tween audience.
Companion Pets and Accessories: The addition of companion pets and a wide range of accessories added depth and play value to the Bratz experience.
High-Quality Materials: The use of high-quality materials in the dolls and accessories contributed to their desirability and longevity.
Alignment with Pop Culture: Bratz dolls' style and attitude were aligned with pop culture trends, making them relevant and appealing to the target audience.
Bratz Shack
It's a fashion spectacular with Bratz, the girls with a passion for fashion. With new fashion looks that keep these funky and hip dolls at the top of their game, Cloe, Sasha, Jade, Yasmin, and Meygan, prove once again that looking good means feeling good. The ability to change and customize outfits is one of the main attractions of the beguiling, big-headed Bratz figures, and Cloe comes with a full bevy of garments and accessories: a skirt, a pair of flared jeans, two tops, an oversized star-shaped brush for her impressive tresses, and a faux leather shoulder bag that picks up on the warm earth tones of her clothes. Cloe is moderately posable, bending at the knees, the tops of her legs, shoulders, ankles, and neck. Mostly what she's good at though is hanging out and modeling her impressive wardrobe. Her hair is also an important of her look, and it can be brushed, braided, and arranged to suit any attitude or look. There were even Bratz electronics.