Brio Beach Play Set
Sand and Water Set by BRIO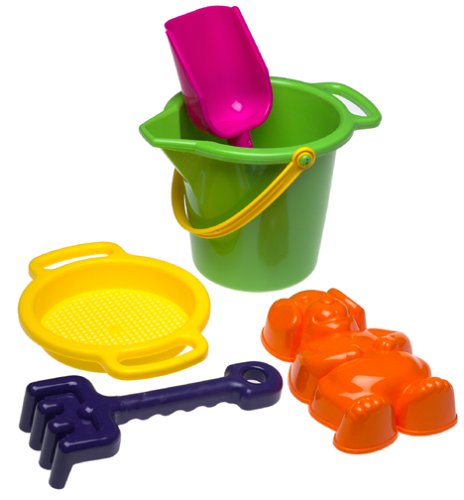 Ideal for the beach or sand box, this set has everything needed for an adventure in the sand. The colorful beach play set is designed to provide endless fun and creativity for children at the beach. With a vibrant collection of tools, including a green pail, yellow sand sieve, purple rake, orange teddy bear sand mold, and pink shovel, this set is sure to captivate young beachgoers. Here's a detailed look at the components:
Green Pail: The green pail is perfect for collecting water, sand, and shells. Children can use it to carry water to their sandcastle or simply enjoy filling and emptying it as they explore the beach.
Yellow Sand Sieve: With the yellow sand sieve, children can sift through the sand, discovering hidden treasures and creating unique textures. It's a great tool for sensory exploration and learning about different materials.
Purple Rake: The purple rake allows children to create patterns, lines, and designs in the sand. They can rake the sand smooth or create wavy patterns, enhancing their creativity and fine motor skills.
Orange Teddy Bear Sand Mold: Shaped like a teddy bear, the orange sand mold adds a touch of whimsy to the set. Children can create adorable teddy bear shapes in the sand, sparking their imagination and storytelling abilities.
Pink Shovel: The pink shovel is designed for digging and scooping. Whether building sandcastles or digging holes, the shovel is a versatile tool that encourages constructive play and physical activity.
This beach play set, with its colorful and engaging tools, promises hours of imaginative play and beach enjoyment. Each piece is crafted from durable materials and designed with children's safety in mind. The set encourages exploration, creativity, and hands-on learning, making it a must-have for any beach outing. It's the perfect gift for young beach enthusiasts and a wonderful way to make a day at the beach even more memorable.