Brio Wooden Blocks
Wood building blocks by Brio.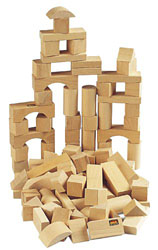 Classic building blocks in assorted shapes and sizes provide variety and change. Made of beechwood, in natural finish.
Beechwood stands out as one of the preferred materials for building blocks due to its unique combination of durability, aesthetics, and tactile qualities. Here's what makes beechwood ideal for this purpose:
Durability: Beechwood is known for its robustness and resilience. This hardness ensures that the blocks remain in good shape over time, resisting dents and wear that can occur during play.
Smooth Grain: Beechwood boasts a fine grain, giving blocks a smooth finish. This ensures safety as children are less likely to get splinters when handling them.
Consistent Texture: The even texture of beechwood allows for precision in crafting, ensuring that blocks are consistent in size and fit together perfectly.
Natural Aesthetics: Beechwood's light color and subtle grain make for beautiful blocks. Its natural appearance is visually pleasing and can be left untreated or can be easily stained or painted.
Eco-friendly: Beech trees are commonly found in sustainable forests, making beechwood an environmentally responsible choice. Furthermore, wooden blocks, being biodegradable, have a lesser environmental impact compared to plastic alternatives.
Beechwood's blend of durability, beauty, and tactile qualities make it a top choice for building blocks, providing both a safe and engaging play experience for children.