BTR Construction Set
Built to Rule Action Building Sets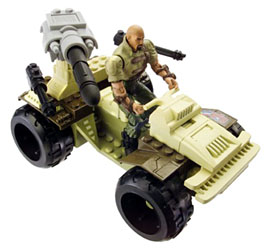 Built to Rule Action Building Sets come with action features and cool detailed pieces. The BTR Construction set is compatible with other leading building systems. Now you can build and battle GI Joe vehicles. The Rock Crusher Assault Quad can also be built into a Land Luge and comes with a Gung Ho Figure and firing missile launcher. BTR Construction set includes 26 pieces.
Building playsets offer many developmental benefits for children. These versatile toys not only entertain but also nurture essential skills that aid in a child's overall growth. Below are the primary ways in which building playsets can be advantageous for children:
Cognitive Development: Building playsets challenge children to think critically. By deciding where each piece should go and figuring out how to create a stable structure, kids enhance their problem-solving and reasoning skills.
Motor Skills: Handling small pieces, connecting them, and ensuring the stability of a constructed design enhances fine motor skills. Such tasks require precision and hand-eye coordination, which get refined with repeated play.
Creativity: Given an array of pieces, children can let their imaginations run wild. Whether they're constructing buildings, vehicles, or abstract designs, the creative possibilities are endless.
Spatial Awareness: Constructing three-dimensional structures from two-dimensional pieces fosters an understanding of spatial relationships, depth, and volume.
Persistence and Patience: Building complex structures can be challenging. Through trial and error, kids learn the importance of persistence, patience, and the rewarding feeling of accomplishment.
Social Skills: When playing collaboratively, children learn to share, communicate their ideas, and work together to achieve a common goal, thus enhancing their teamwork and social interaction skills.
Mathematical Concepts: Without realizing it, children delve into basic math concepts such as symmetry, balance, and geometry when they figure out how pieces fit together.
Building playsets are much more than mere toys. They serve as educational tools that cultivate vital skills, promoting cognitive, physical, and social development in children.