Bulls Eye Bounce and Roll
Playschool electronic ball arcade game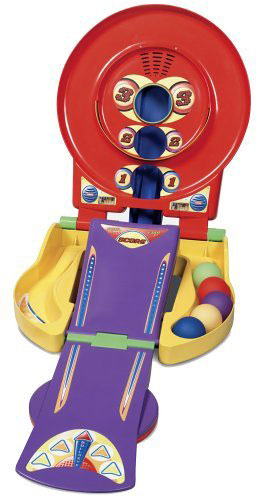 Arcade ball game at home with the Bulls-Eye Bounce and Roll toy. The action never stops with two ways to play: bounce or roll. Three challenging game modes: target practice, match me, and the high score challenge. Electronic announcer encourages play, keeps track of points, and records the high score. Game folds up for easy storage and cleanup. Take the challenge and score a bulls-eye of fun. Bulls-Eye base comes with small ring, large ring, chute, and five balls.
Reminiscent of Skee Ball
Skee Ball is an iconic arcade game that has entertained players of all ages for over a century. Originating in the early 1900s, the game's primary objective is straightforward but addictive: players roll a series of balls up an inclined lane, aiming to land them in one of several rings or holes, each with different point values.
Gameplay: Players typically have a set number of balls (usually nine) to roll per game. Using skill and precision, they roll each ball up the lane, trying to get it to jump into one of the rings at the end. The further away and smaller the ring, the more points it's worth.
Scoring: The scoring system varies slightly depending on the machine or venue, but typically, the holes are labeled with values ranging from 10 to 100. The objective is to achieve the highest score possible with the given set of balls.
Design: Traditional Skee Ball lanes are made of wood and are approximately 10 to 14 feet long, with rings or holes at the end. The game has a nostalgic, vintage appeal that has largely remained unchanged since its inception.
Popularity: Skee Ball's universal appeal stems from its simple mechanics combined with the challenge it presents. Over the decades, it has become a staple in arcades, boardwalks, and entertainment centers worldwide.
Rewards: In many arcades, achieving a high score or hitting specific point thresholds in Skee Ball can earn players tickets. These tickets can typically be redeemed for prizes, adding an extra layer of excitement and motivation to play.
Skee Ball's enduring charm lies in its perfect blend of skill and luck, its retro feel, and the sheer joy of landing a ball in that elusive 100-point ring. For many, it's a nostalgic trip down memory lane, while for others, it's a new, exciting challenge to conquer.