Burn Out From Connects Knex Burnout Dragster
Radio Controlled Burnout Dragster by K'NEX.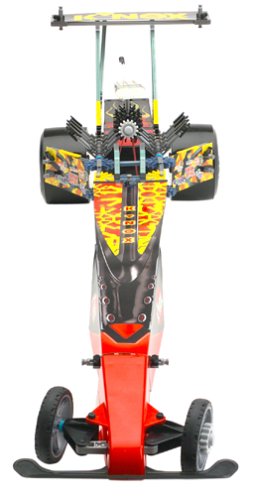 Design high performance racing models, then take control with r/c action. Full steering, peel out wheels, and protective nose. Instructions to build three models. The beauty of this radio-controlled vehicle is that you assemble it yourself with snap-together pieces. The vehicle can be assembled in any number of different ways, including a dune buggy shape and a scorpion. The great thing about this is that, since you need to build it before you can play, it engages your child actively in the process. In the course of assembling the car, you (or your kid) will learn the rudiments of how a steering system works, since no matter how creative you want to get with the rest of the vehicle, the steering has to be hooked up properly for the thing to work. This dragster comes in two frequencies, 27 MHz and 49 MHz, so if you want to get two and race them, you can do so without the signals conflicting. Requires one 9-volt battery and eight AAs (also compatible with a 9.6-volt rechargeable battery system).