Butterfly Starcastle Princess
Trendmasters Creates a Fantasy World of Flying Stardancer Princesses and Exotic Castles with Starcastles Brand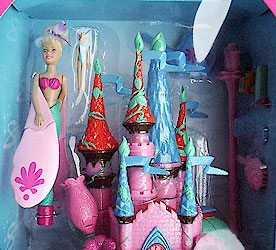 Starcastles gives flight to the world of make believe with fantastical fairy castles, flying princesses and a far-away land that's as close as your playroom.
Starcastles, the new line of fantasy-themed castles and flying princesses from Trendmasters, lets little girls live out their most magical dreams without ever leaving their playrooms. Each Starcastles playset includes a whimsical castle packed with mystical transformation elements such as: a turret which transforms into a launcher for a real flying princess Butterfly Starcastle features a real working tea set--and other magical secrets for girls to discover. Each fanciful set comes with a mini Stardancer fairy princess with her own ball gown and magical accessories to bring the Starcastles playsets to life. Watch for the following items debuting for 2001:
Cinderella Starcastle with Stardancer Dolls
Amazing Cinderella Starcastle includes a "magic" wand to activate doll launch, fireworks, castle lights and sound. Just one wave of the wand, and the castle comes to life with breathtaking fiber-optic fireworks from the castle turret.
A princess never goes flying without the right accessories. The Cinderella Stardancer brings with her a hollow pumpkin, which reveals her slipper on a pillow, a ball gown, a mini fairy princess hairbrush, hair extension--even a fabric tutu for optimal flying. The back of the Starcastle transforms into Cinderella's magical bedroom filled with all sorts of neat surprises, including drawers that open and close and even a closet to store her accessories. When you push a button on the magic wand, you'll hear the trumpet fanfare and watch your princess take flight. The Stardancer princess features soft, foam wings and will fly to a maximum height of five feet for added safety.
Butterfly Tea Set Starcastle with Stardancer Dolls
The beautiful Butterfly Tea Set Starcastle transforms into a working tea set that you can use with your Stardancer princess or other friends. It includes two cups, two saucers, a teapot and mini princess. The graceful Stardancer spreads her wings and can fly from the turret along with 12 beautiful butterflies that flutter their way out into your world. The Stardancer's magical accessories include a clip-on hair piece, fabric tutu, hairbrush and plastic base stand.
Tropical Jewelry Starcastle with Stardance Dolls
The Tropical Jewelry Starcastle contains lots of hidden jewelry treasures, including two tropical barrettes that light up, two comb clippies, four multi-colored hair extensions, one ponytail holder and a bobby pin with sparkling gems. The Stardancer princess flies from the castle turret before your very eyes. She includes many wonderful accessories: removable ball gown, hairbrush, hair extension, wand, a special tutu for flying and a mini princess doll.
Starcastle Collection with Stardance Dolls
The Starcastles Collection features three additional, special castles, each with its own Stardancer princess, mini princess and coordinating accessories.
Water Starcastle
Bubble Starcastle
Rainbow Starcastle