Candle Making Craft Kit
Beeswax Candles and Bee-havior Kit.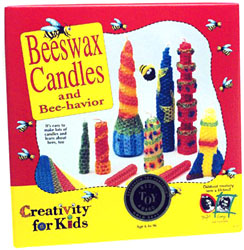 How can your kids make funky, practical art while learning all about everyone's favorite insects? Beeswax Candles & Bee-havior spreads the word about the little honeymakers and includes five brightly colored, 8-inch-by-8-inch sheets of their finest wax, ready for candle-making. The instructions are clear and simple while leaving room for creativity; the only parental supervision needed is in cutting the wicks (and lighting the finished products, of course--beeswax burns hot!). Make beautiful beeswax candles while you learn about bee behavior and test your I.Q. Each of the 5 sheets of natural beeswax can make 12 birthday candles, 2-4 decorative candles or 1 tall taper.