Connect 4x4
Four-by-four double grid four-player game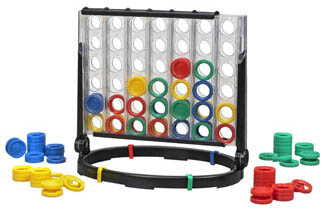 A four-in-a-row game for four players. The grid and the number of players is doubled for more challenge and fun. Take turns dropping a checker into the grid to create a line of four checkers horizontally, vertically, or diagonally, just like the original Connect 4. The double-sided grid allows you to make a line on either side, or by weaving through from one side to the other.
Connect Four, with its familiar grid and brightly colored discs, has long been a cherished game for players of all ages. At its core, the game combines simplicity with deep strategic depth. Here's what makes Connect Four so delightful:
Easy to Understand: The rules are simple—two players take turns dropping colored discs into a vertical grid, each trying to connect four of their own discs vertically, horizontally, or diagonally before the other player. This straightforward objective makes the game accessible and easy to pick up for newcomers.
Strategic Depth: While it's easy to grasp the basics, there's a wealth of strategy beneath the surface. Players must constantly be on the lookout, balancing their moves between offensive tactics and defensive blocks, predicting the opponent's next move, and setting up traps.
Quick Rounds: Games are generally quick, making it perfect for a brief diversion or a short competitive burst. It also means players can engage in multiple rounds, allowing for rematches and chances to refine their strategy.
Social Interaction: Connect Four is inherently a social game, encouraging face-to-face interaction. The direct competition fuels friendly banter, laughter, and the occasional dramatic moment of victory or defeat.
Tangible Experience: Physically dropping the discs into the grid and hearing the satisfying "clink" as they fall into place adds a tactile and auditory pleasure to the gameplay.
Connect Four manages to blend simplicity with intricate strategy, providing endless entertainment. Its timeless charm makes it a game that can be enjoyed again and again, whether as a quick diversion or a heated battle of wits.