Board Games
Classic timeless social pastimes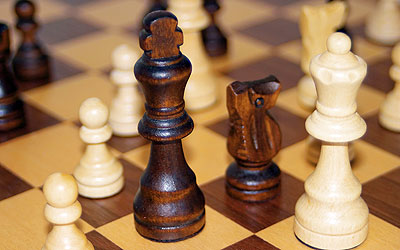 Yu-Gi-Oh 5D Trading Card Game - Ancient Prophecy, fairy dragon, black wings, dark signers.
Connect 4x4 - Four-by-four double grid four-player game.
Electronic Guess Who Extra - Electronic edition of classic game has tons of faces and funny sounds.
Yugioh 5Ds - Get ready to put the the pedal to the metal and rev it up to the newest dueling dimension with Duelist Genesis.
| | |
| --- | --- |
| | HeroScape interlocking terrain forms a 3D field of play on which thirty detailed painted plastic toy fantasy hero miniatures compete. |
| | Zathura Board Game replica of the game from the movie comes with board, spinner, card ejector, game cards, and rocket ship movers. |
| | Clue Mysteries decode and record clues found with detective toolkit that contains spyglass, secret mirror, and location key. |
| | Mall Madness classic board game of shopping and walking around. |
| | Trading Cards games based on movies, comic book characters, and sports teams help develop social and cognitive skills. |
| | Retro Toys hard-to-find nostalgic classics, sports, activities, music, and games offered by online catalog retailer. |
| | Sorry Card Revenge easy-to-learn, electronic card game edition in which players must match colors or follow a numerical sequence. |
So Sue Me - New York Game Factory comes with game board, spinner, tokens, and cards
80s Trivia Game

Ants in the Pants Board Game - The 3-D game offers children a brightly colored toy as the game board.

Break the Safe Board Game

Cadoo from Cranium

Candy Land Board Game - For generations, boys and girls have enjoyed Candy Land as their first board game.

Chutes and Ladders Game - Ideal for younger children who are still learning to take turns and just beginning to recognize numbers.

Cranium Board Game - Spell a word backwards, hum a tune, answer a multiple-choice question, draw with your eyes closed, and more when you play Cranium.

Deluxe Scrabble - Classic excellent scrabble board game.

Disney Charades - Wonderful World Of Disney Charades.

Disney Monopoly Game - All of your favorite Disney characters are featured in classic Monopoly style for a family game that everyone can enjoy.

Don't Break the Ice Game - In Don't Break the Ice, two to four players take turns wielding plastic mallets and tapping out ice blocks.

Don't Wake Daddy Game - The game includes Daddy in a 9-by-5-inch plastic bed, gameboard, mover bases, deck of cards, spinner, and instructions.

Electronic Battleship Advanced Mission - Electronic Battleship with advanced gameplay.

Fib Finder Game Electronic - Electronic Fib Finder Game includes Fib Finder, game board, question cards, movers and instructions.

Fishin' Around - fishing around game - Kids take turns picking cards and using their different-colored fishing poles to hook and catch the fish pictured on the card that they've chosen.

Game of Perfection - Fit all 25 pieces into place before the 60-second alarm sounds.

Girl Talk Board Game - Popular game for girls.

Guess Who Game - Using game boards with 48 frames apiece and an equal number of cards displaying character faces, players ask one another yes or no questions that help narrow the pool of possibilities.

Hang in There Jungle Racing Game - Attempting to hook their herd of T-shaped animals from treetop to treetop, players control the up-and-down timing of a pair of palms on individual sides of the jungle.

Hungry Hungry Hippos - Four hippos try to eat as many marbles as they can.

Let's Go Fishin' - Fishing Game - The musical Let's Go Fishin' game is a test for the eyes, hands, ears, and patience.

Lucky Ducks Game - A sound-and-motion version of the typical color-matching game.

Mystery Date - Mistery Game - Using an electronic talking phone, girls will delight in playing three different mystery games.

Nutty Elephant Board Game - The who can feed him first game.

Penguin Pat's Fishy Business Game - The big talking Penguin game.

Scene It DVD Trivia Game

Star Wars Epic Duel Game Duels - Greatest Star Wars board game ever made.

Star Wars Monopoly - Star Wars Episode I Monopoly.

Survivor Board Game - Board Game from the Survivor Television Show.

Throw Me a Bone - Lighted action toy.

Trivial Pursuit Millennium Edition - Great version.

Trivial Pursuit Star Wars Trilogy - Star Wars trilogy classic trivial pursuit game.

Wheels on the Bus Game - Board Game by Hasbro.