Cootie Jitterbug Game Kooty Jiggerbug
Cootie Jiggerbug is a great toy.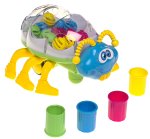 This fast-paced game will have players of all ages scrambling to scoop up bright plastic balls and drop them into Cootie's back. The catch is that Cootie will be scrambling just as hard to toss them back out. Pop in two C batteries (not included), make sure you have plenty of room, scatter the colored balls on the floor, turn Cootie on, and let the fun begin. Variations on how the balls are gathered can be determined for different ages. Easy assembly only requires the jitterbug's six legs to be slipped into place before play. Instructions in English and Spanish are included.