Sports Toys
Toys that have sports or activity themes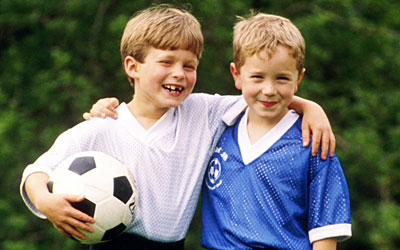 Bop It Smash - Fast-paced game is a quick way to create fun.
Nerf N-Strike Tactical Gear - Bandolier kit and tactical vest.
Nerf Stampede ECS - A more intense version of the traditional foam dart air blaster.
Nerf Clear Raider CS-35 with Red Darts - Clear window lets you know when your dart supply is running low.
Ultimate Foam Air Blaster - Buzz Bee Toys ultimate foam dart system.
Tony Hawk Shred - Motion sensing skateboard or snowboard video game.
Skeet Shooter - Indoor and outdoor target practice game.
Spinning Electronic Lightsaber - Two-handed light saber action.
Fury Fire Nerf Dart Tag - Complete two-player Nerf dart kit including scoring vest and safety goggles.
Saucer Scramble - Active game in which one to four players tries to catch flying saucers.
Star Wars Duel Action Light Saber - Double lightsaber comes with a hidden blade that can be combined with the main one for duel action.
Nerf Dart Tag Strikefire - Two-player soft dart tag system.
N-Force Nerf Swords - Short and long swords look cool but play safe.
Nerf Raider CS35 - Rapid fire action from the highest dart capacity 35-dart drum, raider air powered CS-35.
Automatic Tommy 20 - Motorized soft foam dart dispenser.
Vulcan Nerf Blaster - Belt-fed rapid fire action with N-Strike EBF-25.
ESPN Shot Block Basketball sport station with electronic scoring, lights, sounds, and commentary.
Tony Hawk Helmet Cam action sports helmetcam from Digital Blue.
B-Daman Blaster Tournament Arena be da man in ten tournament competitions with DHB Direct Hit Battle target toy.
Nerf Dart Tag two-player nerf action set activity system.
MX Dirt Rebel virtual Motocross racing action TV game.
Laser Tag Team Ops Lazer Tag heads up display unit provides you with real-time audio visual gameplay feedback.
Wild Adventure Mini Golf six mini TV virtual golf adventures where every hole is a new world to explore.
Mission Paintball play action-packed virtual paintball games right on your TV.
Yo Stick ultimate trick stick.
Spiderman Mega Blast Web Shooter with Light Up Mask shoots 3 webs using special fluid or streams of water.
Star Wars Ultimate Light Saber assemble your own lightsaber.
Play TV Baseball 3 virtual sports game connects to television.
Black Belt Karate Studio DVD video with training mat and bag teaches karate blocks, kicks, and stances.
N-Strike Firefly Rev-8 blaster sends nerf darts thirty feet in the dark.
Bop It Blast new version of the electronic competitive reflex game toy.
Moon Shoes anti-gravity coordination toy provides mini trampolines for your feet enabling you to jump and bounce high.
ESPN Gamestation arcade style games with sound effects and the sports of baseball, basketball, football, hockey, golf, and soccer.
Simon Sticks sequence memory game with lights, sounds, automatic scoring, and seven styles of music.
Stink Blaster concentrated air and odor prank toy from SpinMaster comes with two annoying but harmless stinky pods.
Lazer Tag two-player deluxe set with LCD screens, heads-up displays, audio-video indicators, and pre-programmed games.
Play TV Football Madden interactive sports game with two-player step pad and wireless motion football plugs directly into your television.
N-Strike nerf blaster with pump action and DVD that generates virtual robot targets on your television to help you practice your aim.
Hydro Strike - Use the flippers to get the ball to your opponent's side. If you hit his goal, you score a point and he gets sprayed with water.
4 Wheelers - 4-wheel Skates.

Air Hockey Table - Air-powered, table hockey game.

Bop It Game - Bop it game is a musical challenge toy that can be played at a party.

Bop It Extreme

Bop It Extreme 2

Cootie Jitterbug

EleFun

Energy Paintball

Extreme Snowboard Game

Frog Tennis - Frog Tennis Game by Hasbro.

Gator Golf

Heads Up

Holey Moley

Hulk Hands

Kids Treadmill - Kid-powered way to burn off extra energy.

Lego Ultimate NBA Arena

Mighty Beans

Nerf Tech Target

Parachute Games for Children - Playchute Parachute by Pacific Play Tents.

Play TV Snowboarder - Interactive Game by Radica Games.

Silly 6 Pins

Silly Golf - The Goofy Gopher Golfing game from Milton Bradley.

Silly Soccer Game

Sockem Boppers - More fun than a pillow fight.

Socker Boppers

Sonny the Seal

Spiderman Web Blaster - Spider-Man Deluxe Dual Action Web Blaster by Toy Biz.

Light Sabers - Regular

Star Wars Electronic Light Sabers - Star Wars Episode II Attack of the Clones: Electronic Anakin Skywalker Lightsaber by Hasbro.

Tech Deck Dudes

Top It

Whac-A-Mole

Whacky Wacky Bop