Counting Puzzles
Hands Counting 12-piece Peg Puzzle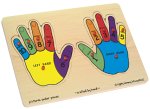 This 9" x 12" puzzle represents left and right hands. Each finger is numbered to make counting for the first time fun!. Small hands can easily remove each piece revealing a matching full color illustration underneath. The puzzle develops dexterity, counting skills and improves hand-eye coordination.
How Puzzles Can Teach Counting
Puzzles can be an educational tool with a multitude of benefits for young learners. Especially when it comes to teaching counting, puzzles provide an engaging, hands-on method for children to grasp the basics of numbers. Here's how puzzles can facilitate this essential skill:
Sequential Ordering: Puzzles, by their very nature, require pieces to be placed in a specific sequence. As children recognize the order, they can be encouraged to count the pieces as they assemble the puzzle, promoting the idea of sequence in numbers.
Numbered Pieces: There are puzzles designed specifically for teaching counting, where each piece is numbered. These pieces might need to be connected in numerical order, directly associating the act of counting with the progression of the puzzle.
Visual Representation: Many puzzles feature illustrations of objects in quantities that correspond to a number. For example, a piece labeled "3" might have three apples painted on it. This visualization strengthens the connection between the numeral and the quantity it represents.
Tactile Learning: Physically manipulating puzzle pieces engages children's motor skills and provides tactile reinforcement. The act of touching and moving pieces can reinforce the concept of quantity and counting.
Repetition: Completing a puzzle often involves trial and error, leading to repetition. This repeated exposure to numbers and counting in different configurations reinforces learning and aids memory retention.
Puzzles are an effective tool in making abstract concepts, like numbers and counting, tangible for young minds. Their interactive nature, combined with the visual and tactile aspects, offers a comprehensive learning experience that can lay a strong foundation for more advanced mathematical concepts in the future.