Cradle Swing with Mobile
This entertaining swing soothes cranky babies and keeps curious babies busy.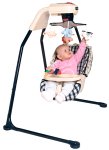 Baby swings are one of the greatest inventions since grannies, and the Fisher-Price cradle swing includes all the modern refinements a parent could want. That means a motor, of course, but more importantly it means a sensible, easy-to-use design. The tubular metal frame is shaped a bit like two Ls leaning together. A comfortable baby chair (with a snap-off tray incorporating a simple activity bar) hangs from the top, and there's a mobile with four plush animals above it. There are just two simple controls: a knob for choosing Off/Low/Med/High and a button for locking the chair into forward-back or side-to-side motion. For moving and storage, the legs swing inward and can also be broken down into several pieces and then reassembled without tools. The swing stands 40 inches tall and has a 28-by-38-inch footprint. Adult assembly and three D batteries required. Features include: a push-button pivoting basket seat for side-to-side and head-to-toe swinging motions; two-position reclining seat; machine-washable seat pad; three-speed, battery-operated drive; removable tray with entertaining toys; and an overhead mobile with four dangling, plush animal toys. Dimensions are 40 by 38 by 28 inches.