Fisher Price Toys
Educational and safe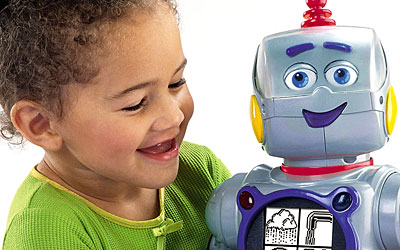 Fantastic Gymnastic Dora - Fisher-Price Dora The Explorer Fantastic Gymnastics Dora.
Zig the Big Rig - Fisher Price Little People truck picks up cars.
Stride to Ride Dino - For learning to walk, then closes to become ride toy.
Poppity Pop Dino - Popping balls inside, dinos comes out magically.
Sky Racers Aircraft Carrier - Naval battle toy on a big scale.
Stand and Play - Fisher-Price Little People vehicle ramp playset.
Geo Tracks Airport - You control the jumbo jet in this playset.
Geo Tracks Timber Town Railway - RC train can easily be lined up on the track in the special track area.
Geo Tracks Easy Rail Station - GeoTrax train station is part of Fisher-Price timber town railway.
Little People Spin and Crash Raceway - Kids control the outcome with the press of a button.
Shake and Go Extreme - Change track layout for different stunts on the Fisher-Price extreme speedway.
Stride to Ride Lion - Walk on the wild side with a Fisher Price walker that rewards baby's first steps with lights and music.
Stack and Surprise Silly Town - Baby will love the fun surprises, motorized action and peek-a-boo faces they find exploring this creative building town from Fisher Price.
Diego Animal Rescue Railway - Fisher-Price Go Diego Go train rail track set.
| | |
| --- | --- |
| | A to Z Learning Zoo Fisher Price Little People ABC zoo alphabet learning playset. |
| | Baby Gymtastics Fisher Price activity system encourage physical movement and development. |
| | Elmo's Musical Gym peek-a-boo baby activity center with hanging toys and Sesame Street characters. |
| | Drop and Roar Dinosaur Fisher-Price learning infant playset with roll around friends. |
| | Power Touch Baby reading system from Fisher Price includes learning activities, songs, playful music, sounds, textures, and stories. |
| | Dora's Talking House dollhouse with mom, dad, pets, and six areas that activate sounds, music, lights, and bilingual phrases. |
| | Magic Hair Dora fairy tale princess explorer doll can say phrases, sing a song, and her hair magically grows while her crown twinkles. |
| | Play Laugh Learn Fisher Price learning home, table, garden, and blocks combine fun with educational songs and activities. |
| | InteracTV interactive preschool learning platform with wireless control through which children answer questions. |
Fisher Price Baby Monitor - This monitor by Fisher-Price comes with 2 dual receivers so you have twice the convenience.
Fisher Price Stand Alone Portable Baby Swing - All the features of a full-size baby swing in a compact, portable design.
Fisher Price Cars and Trucks - Fisher Price cars and trucks are stackable.
Cradle Swing with Mobile - This entertaining swing soothes cranky babies and keeps curious babies busy.
Little People Discovery City - This playset is filled with animation, lights, speech and sound effects and all happens within familiar places for preschoolers to explore and discover.
Fisher Price High Chair - The healthy care fisher high chair is safe and comfortable.
Grow With Me RC Rally - Grow With Me R/C Rally by Fisher-Price.
Infant Toddler Rocker - With soothing vibrations.
Kid Tough Tape Recorder - The most durable tape recorder for kids.
Kick and Play Bouncer - The Kick and Play bouncer is equipped with kick-activated music and lights.
Fisher Price Little People Farm - Little People Animal Sounds Farm.
Musical Stacker - The classic fisher price stacking toy with the addition of music.
Fisher Price Nursery Rhymes Bus - Learning nursery rhymes bus.
Sing Me to Sleep Pooh - A soothing alternative to a wind-up nighttime musical toy.
Soothe and Snuggle Bouncer - Exclusive bouncer features a micro-fleece blanket with satin trim.
Sparkling Symphony Gym - Classical music and childhood classics combine with lights and action to entertain babies and parents alike in this Sparkling Symphony Gym from Fisher-Price.
Tough Stuff Tape Recorder - Durable, easy-to-operate tape recorder for kids.
Vibrating Baby Monitor - You will feel the vibrating baby monitor in your pocket; it is activated by your child's crying.
Walk and Wag Baby Pluto - Winner of the Family Fun Toy of the Year Award and Ser Padres Award.