Crayola Crayon Maker
Make your own crayons by melting down the old ones.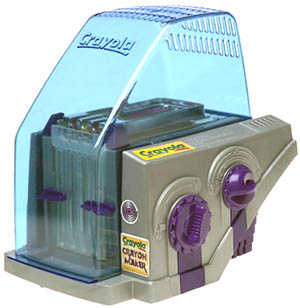 Ever wonder what to do with the hundreds of worn down Crayola crayons your kids have accumulated? The new Crayola Crayon Maker lets kids have hours of fun making their very own Crayola crayons by melting down those well-used bits and pieces and molding them into brand new crayons. Kids can make new crayons in their favorite hues or they can mix different bits of wax together and make multi-colored crayons. The tabletop crayon factory is the only toy of its kind that lets kids make their own crayons. The Crayon Maker includes decals, crayons labels, a mold and unlabeled crayons.