Crayola Sticker Maker
Automatic sticker maker.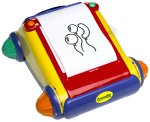 This automatic sticker machine with light box function, lets you make your own stickers. Automatic or manual roll out mechanism for sticker paper roll, light box drawing area, slot for holding tracing slide, 18 pre-printed tracing slides, 6 blank tracing slides, 3 stencils (numbers, letters, and shapes), 3 rolls of 4 inch x 15 foot long sticker paper, 8 clear plastic adhesive backed sticker protectors, and 1 spare bulb.