Crayon Holder
Kid-invented product uses plastic tube for grip to enable children to hold the smallest broken pieces and still draw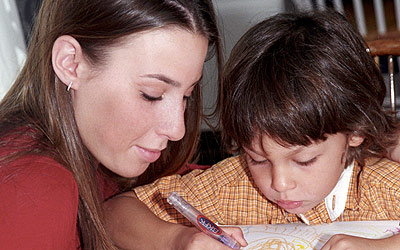 The Crayon Holder makes drawing easier for little hands. A simple but brilliant product, the crayon holder can hold the smallest piece of crayon and still draw.
Invented by Cassidy Goldstein at the age of eleven, The Crayon Holder solved a common problem: how to grip crayons when they are broken and too small to use. Confronted with a bucket of broken crayons, Cassidy pondered a way to make use of them to finish her drawing. Inspired by the plastic tubes used to keep roses fresh while being transported, Cassidy created a holder that would grab the small pieces of a broken crayon.
The crayon holder also benefits children who find the small crayons hard to handle, and it helps keep fingers clean. The Crayon Holder packaging features Cassidy and her story as an inspiration to other kids that they too can invent and turn ideas into profits.
"Kids have tremendous creative potential that has not been recognized for commercial application," said Daniel Gwartz of By Kids For Kids. "Ideas like Cassidy's crayon holder demonstrate the true potential of kids to innovate and we are honored to have Wal-Mart taking the lead in supporting her product.
The Joy of Crayons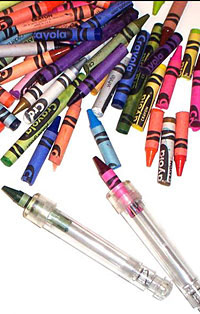 Crayons have been a beloved art medium for generations, providing joy, creativity, and expression to both children and adults alike. The simple yet versatile nature of crayons has made them a timeless tool in the world of art. Here's why crayons continue to captivate artists of all ages:
Accessibility: Crayons are widely available and affordable, making them accessible to virtually everyone. Whether in a classroom, at home, or in a professional art studio, crayons are a staple that can be found almost anywhere.
Colorful Expression: With a vast array of vibrant colors, crayons offer endless possibilities for artistic expression. From bold and bright hues to soft and subtle shades, crayons allow artists to explore the full spectrum of color.
Childhood Nostalgia: For many adults, crayons evoke fond memories of childhood creativity and play. The familiar scent and feel of crayons can transport people back to simpler times, fostering a sense of nostalgia and joy.
Developmental Benefits for Children: Crayons are often one of the first art tools introduced to children. They help develop fine motor skills, hand-eye coordination, color recognition, and spatial awareness. The act of coloring and drawing with crayons encourages cognitive and emotional growth in young children.
Therapeutic Qualities: Coloring with crayons has been recognized as a therapeutic activity for individuals of all ages. It promotes relaxation, stress relief, and mindfulness, making it a valuable tool for mental well-being.
Creativity and Imagination: Crayons inspire creativity and imagination by allowing artists to experiment with different techniques, textures, and styles. From simple doodles to intricate masterpieces, crayons enable artistic exploration without limitations.
Social Connection: Crayons often facilitate social connections, whether through collaborative art projects, family coloring time, or community art events. They bring people together to create, share, and celebrate art.
Environmental Friendliness: Many crayons are made from non-toxic and environmentally friendly materials, aligning with growing concerns about sustainability and eco-conscious living.
The joy of crayons transcends age, culture, and socio-economic status. They are more than just a tool for coloring; they are a symbol of creativity, expression, and human connection. Crayons have the power to unite generations, spark imagination, and provide comfort and healing. Their enduring popularity is a testament to their universal appeal and their ability to touch the hearts and minds of artists around the world.