Cube World
Stick people who live in colorful cubes interact with each other when stacked on top of each other or connected side by side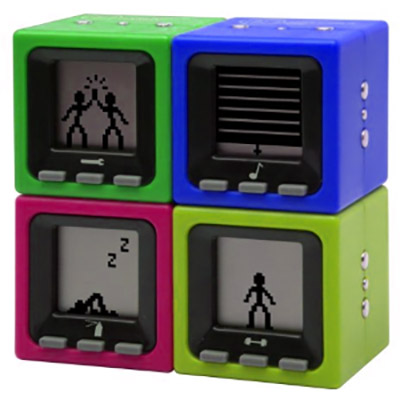 In 2005, Radica Games developed an innovative electronic entertainment product that puts a new twist on an old classic and brings stick people into the future.
Imagine stick people sticking together, interacting like real people, and actually waving to each other, playing, or even getting upset.
"There's a certain kind of magic in Cube World," said Radica CEO Pat Feely. "The nearly endless interaction of what the stick figures can do, individually or once connected, brings excitement to kids of all ages."
Hitting stores in time for the holidays, CubeWorld is available this fall at select specialty retailers like Brookstone for approximately $30.
"Because of its fun, interactive nature, we believed Cube World would be an ideal addition to our assortment of innovative products and popular with our customers looking for a unique holiday gift for kids and adults alike," said Robert Padgett of Brookstone.
Cube World was a unique, interactive world that features stick people sticking together. Four colorful cubes house an individual stick person living inside and can be connected to form block parties. Once connected, whether the cubes are stacked on top of each other or side-by-side, the stick figures begin interacting with each other. Players can play games with the individual stick figures, but the real fun lies in connecting the cubes and watching the stick figures interact, whether they climb into each others' cubes to play with each other.
Cube World Features
Interactive Stick Characters: Each cube featured a stick figure character with its own personality and animations.
Connectable Cubes: Cubes could be connected together, allowing characters to interact and visit each other's screens.
Various Games and Activities: Characters could play games, perform tricks, and engage in various activities within their cube.
Expandable World: By connecting more cubes, users could expand the Cube World, adding complexity and variety to the interactions.
Magnetic Connectors: Cubes were equipped with magnetic connectors for easy attachment and rearrangement.
Character Series: Cube World toys were released in different series, each containing unique characters and themes.
Simple Controls: The toys were operated using two buttons, making them accessible and easy to use for children.
Portable Design: The compact and lightweight design made Cube World toys portable and convenient for on-the-go play.
Battery-Operated: Powered by batteries, the cubes were ready to play without the need for charging.
Collectible Nature: With various characters and series, Cube World toys became collectible items, appealing to enthusiasts and fans.
Durable Construction: Built to withstand play, the Cube World's construction was durable and child-friendly.