Kids Electronics
Technical toys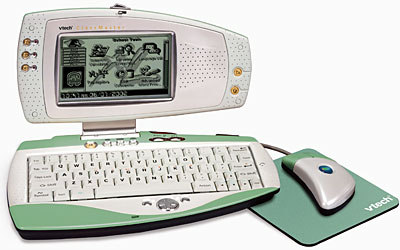 VTech Electronics XL Series of notebook and laptop learning companions educate, entertain, and connect to the Internet via a PC.
Nanovor Nanoscope - Collect, connect, and battle an online world of nanoscopic creatures that live in computer chips.
Secret Saturdays Cryptipedia - Cryptid tracking device and electronic encyclopedia.
My Meebas - Glitter game tube combination of electronics and plush.
Famps - Unlock a world of emotion on your computer.
iCarly Sam's Remote - Sound effects just like on the iCarly show.
Cyber Pocket - CyberPocket with VLink from VTech is on-the-go gaming that now goes online.

Cube World stick people who live in colorful cubes interact with each other when stacked on top of each other or connected side by side.
Fly Pentop Computer pen computer with built-in processor scans what you write on special paper and performs functions such as math calculation.
V2 Tamagotchi Connection Virtual Pets handheld virtual pet toy.
Star Station Fisher Price entertainment system lets kids sing along with hit songs while seeing themselves on TV.
Motion Activated Gear interactive MAG Batman TV action game.
Video Now XP experience interactive video system with three-inch backlit screen, video and volume controls, directional pad, and speaker.
Pixel Chix Interactive Game virtual LCD two-dimensional electronic doll interacts through controls with three-dimensional playhouse.
Chat Now Communicators two-way talk and text message without fees or bills and take pictures with the built-in digital camera.
Vidster Digital Video Camera for Kids versatile videocamera for children comes with three-step photo and video editing software.
Leapster multimedia learning system combines interactive video player, handheld gaming, creativity platform, and digitized book reader.
Megaman Advanced PET personal electronic communication interface terminal comes with three play game chips.
Video Now Jr Playskool's junior version of the popular portable video disc player has big buttons for ease of use by preschoolers.
Zipit Wireless Messenger portable IM connectivity device connects to 802.11b/g wireless home networks or public wi-fi hotspots.
Digital Movie Creator capture video and audio, then edit the clips on your computer, making films with transitions and effects.
Juiceware Cartridges solid state three-dimensional semiconductor memory supports high-volume content distribution.
Juice Box personal portable media player from Mattel plays music, video, and digital photos with full-color video and stereo sound.
iQuest Handheld LeapFrog test assistant and personal organizer includes dictionary, address book, calculator, and calendar.
Leapster Handheld multimedia learning system with electronic storybooks, art creation, and interactive videos.
My Photo Booth electronic portable camera takes instant pictures in the style of a real photobooth experience.
Friendchips toy electronic message readers from Girl Tech Radica with encrypted messaging friend chips.
Eto Etch A Sketch electronic creativity system plugs directly into your TV enabling you to create and play games and art.
Video Now Color portable personal video player with collectible video discs of animations and live-action programming for children.
Skannerz Radica Barcode Game - Scannerz UPC Game with Batteries
Alarm Safe - by Wild Planet

Barbie Wireless Video Camera - Barbie Video Magic: Wireless Camera by KIDdesigns.

Cassette Players

Classic Football Game Toy - Plays and looks just like the original handheld game from the 1970s.

E-Brain Personal Electronic Gizmo Organizer - Personal gizmo - dial phone numbers - wireless downloads - organizer for kids.

Hit Clips Groove Machine - Hitclips Telephone - A great way to transport and share music.

Hotwheels Extreme Cam

Kasparov Laptop Chess Computer - Kasparov Cosmos - Laptop Chess Computer by Saitek.

K'Nex Electronic Arcade

LeapFrog Explorer Electronic Globe - Award Winning Electronic Explorer Globe by LeapFrog.

Leap Pad Back Pack - LeapPad Backpack by LeapFrog.

Musical Activity Walker - by Today's Kids.

Pixter 2

Pixter Digital Handheld Computer - Pixter - the digital handheld computer that lets you create and eliminate.

Pixter Plus - Does everything Pixter can do and more.

Pox Wireless Electronic Game

Skannerz Radica Barcode Game

Stereo CD Player for Kids - Tuff Stuff Stereo and CD Player by KIDdesigns.

Touch Screen Chess by Excalibur Electronics.

Video Now

VTech Detective Books

VTech Kids PC - Little Smart PC Fun Plus by VTech Industries.