Cubix Robots
High-tech, robotic toys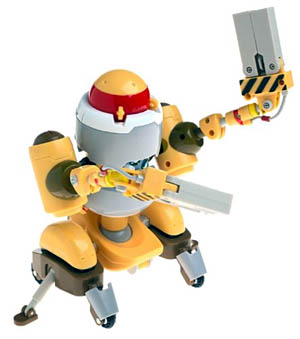 In 2003, Trendmasters captured the high-tech, robotic world of Cubix in its all-new line of action and play figures.
Trendmasters took action figure play to a whole new dimension with the debut of its innovative line Cubix, licensed by Leisure Concepts, Inc., a subsidiary of 4Kids Entertainment. The toy line was based on the new Cubix CGI animated series, created by 4Kids Entertainment, CINEPIX and Daiwon, that is set to debut on KidsWB! in Spring 2001.
The Cubix storyline is filled with action, adventure and friendship. In the future world of Cubix, robots are part of everyday life-directing traffic, teaching school and even fighting crime. Robots are equipped with an EPU (emotion processing unit) to give each a personality of its own. The series will follow the adventures of its hero and his robot pal as they embark on comical adventures and ward off their evil nemesis, Dr. K.
"Cubix is a natural extension of Trendmasters' lines of imaginative, forward-thinking entertainment products," says J. Russell Hornsby, chief executive officer of Trendmasters. "The Cubix link between robotics and animation perfectly matches the innovations which exemplify Trendmasters-creative, futuristic and tech-friendly."
The Cubix line captures the stylized look and individual personalities of this world of robots and features collector Cubix cards that "program" the action figures when the card is scanned through the figure, prompting a special sound or action.
"We are excited to present Cubix to the industry at Toy Fair," states Al Kahn, chairman and CEO of 4Kids Entertainment Inc. "The unique animation style coupled with the introduction of Trendmasters' exciting product line represents a coordinated marketing effort that will bring the world of Cubix to kids everywhere."
The Cubix line features collectible play figures, action figures and special action figure and robot items with sound and scan technology built right in! Collectible Figures Assortment. Robot Builder Action Figures. Robot Action Figures with Sound and Scan.
All Cubix action figures come with at least one Cubix programming card. Each Cubix character responds in his own personal way to the cards, depending on his or her one-of-a-kind features.
Cubix cards are interchangeable and can be used on each Cubix Robot Action Figure character. Once cards are programmed into their favorite Cubix figure, kids can trade for more cards to always keep the game fresh and exciting! Cubix cards are included with each action figure and are sold separately in Booster (15 cards) and Starter Sets (50 cards).
The Supreme Cubix character has ultra-powers with both sound and motion capabilities. A swipe of a Cubix card programs the Supreme Cubix to automatically transform into another robot state.
Trendmasters' special Cubidex includes an electronic optical scanner to help kids keep track of their Cubix cards while providing a handy storage system.