Discount Rock Tumblers
Create polished rock jewelry and spark your interest in geology.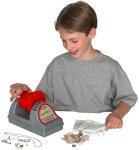 This is the real thing. Heavy duty Rock Tumbler does much more than ordinary rock polishers - it actually changes rough stones into beautiful high-luster semi-precious gemstones. You can even make jewelry and key chains with the settings included in this set.