Discount Rock Tumblers
Create polished rock jewelry and spark your interest in geology.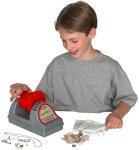 This is the real thing. Heavy duty Rock Tumbler does much more than ordinary rock polishers - it actually changes rough stones into beautiful high-luster semi-precious gemstones. You can even make jewelry and key chains with the settings included in this set.
Transforming Ordinary Stones into Treasures with Rock Tumblers
Rock tumblers are remarkable devices that can turn seemingly ordinary and dull stones into beautiful, polished gems that resemble precious treasures. Here's how the process works:
Selection of Stones: The journey begins with the selection of rocks that may appear ordinary or uninteresting. These can be found in various natural settings such as riverbeds, beaches, or hiking trails.
Cleaning and Preparation: The chosen rocks are cleaned and prepared for tumbling. This may involve removing dirt and debris and selecting stones of similar hardness to tumble together.
Tumbling Process: The rocks are placed in a tumbling barrel with water and abrasive grit. The tumbler's continuous rotation causes the rocks to grind against each other and the grit, slowly smoothing and shaping them.
Multiple Stages: Rock tumbling is usually done in several stages, each with finer grit. This gradual reduction in grit size polishes the stones to a high shine, revealing colors and patterns that were previously hidden.
Final Polishing: After the final stage of tumbling with the finest grit, the stones are often given a final polish with a special compound to enhance their shine and luster.
Revealing Hidden Beauty: The tumbling process uncovers the hidden beauty within the stones, bringing out vibrant colors, unique patterns, and a glass-like shine that makes them look like precious gems.
Creative Uses: The finished stones can be used in jewelry, decorations, or simply displayed as beautiful treasures. They are a testament to the hidden potential within ordinary objects, waiting to be discovered and appreciated.
Rock tumbling is a magical process that reveals the inherent beauty within ordinary stones. It's a reminder that even the most common and overlooked objects in nature can be transformed into stunning treasures with a little time, effort, and creativity.