Disney Charades Game
Charades game based on Disney characters.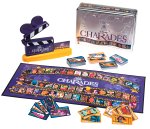 Think of all things Disney, and think fast! This fun charades game involves Disney characters, both new and old. In the first round, say anything as a clue. In the second round, say one thing as a clue, and in the last round, actions only. Includes 200 general cards, 50 easy cards, so the whole family can play. For 4 or more players, ages 4 and up. How well do you know your Disney characters? Find out with this family game based on the old Charades parlor game. This version has a rectangular game board and comes packaged in a sturdy, silver, metal tin. A pathway of famous Disney characters is arranged across the board like a reel of film, with Mickey Mouse-feet markers for each of two teams of players. There are 250 character cards showing both famous and not-so-famous characters (such as Dumbo, Donald Duck, Hercules, and Mulan) from movies, original videos, and old cartoons. There are 50 color-coded cards with easier-to-guess characters (such as Winnie the Pooh and Cinderella), so younger children will have an opportunity to act out their character assignments. The game is played in three rounds--say anything, say just one thing, and say nothing--with each team member drawing character cards and acting out the names as quickly as possible. A two-piece, electronic musical timer keeps track of each round, and Mickey's voice tells you when the time is up. The rules can be easily adapted for younger children, and the set of cards can be used for sorting or matching games of your own invention.
History of Charades
Charades is a beloved game played across many cultures, transcending age barriers and bringing together families, friends, and strangers. But where did this universally popular game originate? Here's a brief dive into the history of Charades:
18th Century France: The game's roots can be traced back to 18th century France. Initially, it wasn't the lively and dynamic game we know today. Instead, Charades began as a type of riddle where a word or phrase was described in a metaphorical or allegorical manner, and listeners had to guess it. These riddles were popular among the French literati.
19th Century Transformation: By the 19th century, Charades evolved into a parlor game in Europe, especially in Britain. It shifted from a verbal riddle to a performance-based one. Players acted out a word or phrase without speaking, and others would guess. This form closely resembles the game as we know it today.
Popularity in Victorian England: Charades became immensely popular in Victorian England. Given the era's strict social codes, Charades offered a rare chance for men and women to interact more freely. The game became a staple at parties and social gatherings.
Spread to America: The popularity of Charades soon traveled across the Atlantic. In the 20th century, with the advent of television, versions of Charades became staple segments in variety shows, further cementing its place in popular culture.
Modern Evolution: Today, Charades remains popular worldwide. It has been adapted into various formats and has even seen digital interpretations with apps and video games centered around the core mechanics of the game.
Charades has journeyed through time, evolving from a literary riddle to a dynamic performance game. Its universal appeal lies in its simplicity, its ability to bring people together, and the sheer joy of unspoken communication and shared laughter.