Disney Charades Game
Charades game based on Disney characters.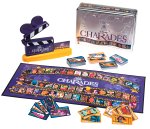 Think of all things Disney, and think fast! This fun charades game involves Disney characters, both new and old. In the first round, say anything as a clue. In the second round, say one thing as a clue, and in the last round, actions only. Includes 200 general cards, 50 easy cards, so the whole family can play. For 4 or more players, ages 4 and up. How well do you know your Disney characters? Find out with this family game based on the old Charades parlor game. This version has a rectangular game board and comes packaged in a sturdy, silver, metal tin. A pathway of famous Disney characters is arranged across the board like a reel of film, with Mickey Mouse-feet markers for each of two teams of players. There are 250 character cards showing both famous and not-so-famous characters (such as Dumbo, Donald Duck, Hercules, and Mulan) from movies, original videos, and old cartoons. There are 50 color-coded cards with easier-to-guess characters (such as Winnie the Pooh and Cinderella), so younger children will have an opportunity to act out their character assignments. The game is played in three rounds--say anything, say just one thing, and say nothing--with each team member drawing character cards and acting out the names as quickly as possible. A two-piece, electronic musical timer keeps track of each round, and Mickey's voice tells you when the time is up. The rules can be easily adapted for younger children, and the set of cards can be used for sorting or matching games of your own invention.