Party Games
Fun social activities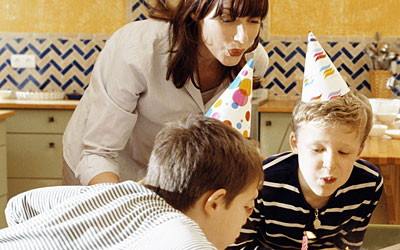 Twister Dance - Combines Twister with other popular dance games like Dance Revolution types and features Britney Spears.
Hedbanz - Quick question game of what am I for kids.
Hyper Dash Extreme - Wild Planet game keeps you running as targets fly.
Red Rover Game - Memory-matching game with run-around play.
Splashy the Whale - Recover treasures from Splashy's mouth in this game from Pressman.
Scatterpillar Scramble - Can you get the balls to the top?
Giraffe Laugh Limbo - Bend over backwards Giraffalaff party game that is fun for family and friends.
Electronic Toss Across - Make trick shots with lights and sounds in eight different games including follow the leader.
Mind Flex - Mindflex is a game that uses a lightweight headset with sensors to control a ball on a column of air with brainwaves (actually face tension from concentration).
Twister Hopscotch - Customizable Twister layout with durable rings that fit together on a non-slip surface
Chicken Limbo electronic limbo party game from Milton Bradley.
Buckaroo Game stack plastic equipment on a plastic mule to see how much gear can you load.
Outburst Remix energetic game with verbal play and quick word association keeps players thinking, laughing, and shouting.
Twister Moves dance mat music game where you follow steps to compete with up to three other players - great fun for parties.
Apples to Apples Game - Award winning game.
Are You For Real Game - The fool your friends game from Milton Bradley.
Beyond Balderdash Game - Parker Brothers Word Game
Disney Charades Game - Charades game based on Disney characters.
Don't Make Me Laugh Junior Game - A game that is sure to please.
Fact or Crap - New offering by University Games gets yanked from Target and Toys R Us.
Game of Twister by Milton Bradley - One of the great classics.
Hilarium Game - The charades game that makes any situation a party.
Loaded Questions Game - A great way to get to know each other better.
Magic 8 Ball Party Game - Question answering fun in a board game.
Malarky Bluffing Game - Tricking game by Patch
Pass the Pigs Game - Great gift for someone who likes pigs.
Personalities Game Personalitease - Personalitease Game by Endless Games.
Quiddler Card Game - By SET Enterprises Inc.
Stare Game - By Game Development Group, Inc.
Wise & Otherwise Game - Voted a Best Party Game of the Year by Games magazine.
Wit's End -The game is called Wit's End, which is just where you might find yourself when playing this lively contest of lateral, literal, and level-lifting thinking.