Disney Wild Racers
Disney Wild Racer 2-Pack: Black Heart GT/Rippin' Reptile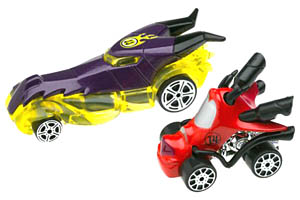 The only cars with character - Disney racers by Hasbro.
Partnership Between Disney and Hasbro
The collaboration between Disney, a global entertainment powerhouse, and Hasbro, one of the world's leading toy manufacturers, has proven to be a match made in toy heaven. Here's how their partnership has contributed to the production of action figures that have captivated the hearts of countless children:
Iconic Characters: Disney's vast array of beloved characters, from the superheroes of the Marvel Universe to the galactic heroes and villains of "Star Wars," offers a rich tapestry for toy adaptation. Hasbro, with its expertise in toy-making, has transformed these characters into high-quality action figures, ensuring that children can bring home and play with their favorite on-screen heroes and villains.
Innovative Designs: Hasbro's knack for innovation means that these aren't just any action figures. Many come with interactive features, accessories, and even voice lines from the movies. This level of detail and interactivity helps bring the magic of Disney to life in the hands of kids.
Thematic Playsets: Beyond individual figures, the partnership has resulted in the creation of comprehensive playsets, allowing children to recreate iconic scenes from Disney movies or imagine entirely new adventures. From the castles of Disney princesses to intricate Star Wars spaceships, the world-building potential is immense.
Integrated Marketing: Disney's global reach in terms of movies, TV shows, theme parks, and merchandise, combined with Hasbro's distribution networks, ensures that these action figures are not only available worldwide but also heavily promoted. This synergy amplifies the visibility and desirability of the toys.
Continuous Evolution: As Disney introduces new characters and stories, whether it's through sequels, new franchises, or reboots, Hasbro continues to evolve its line of action figures, ensuring there's always something fresh and exciting for fans to look forward to.
The Disney-Hasbro alliance epitomizes the perfect blend of storytelling and craftsmanship. Disney provides the iconic characters and tales, and Hasbro translates them into tangible playthings. Together, they've ensured that the magic of Disney can be experienced by children not just on screens but in their very hands.