Soda Pop Girls
Bubbly new dolls with a sweet tooth for style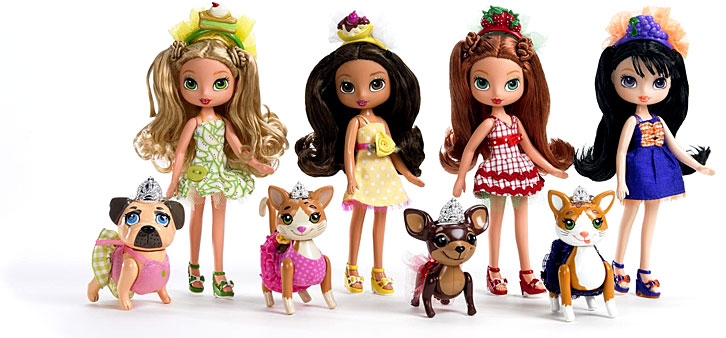 MGA Entertainment has a special treat for girls who like their dolls extra sweet! From the makers of the award-winning BRATZ fashion dolls comes the SODA POP GIRLS of YUMMI-LAND, six new sweet-scented dolls and their pet friends with a tasty flavor for fashion! Meet Gaby Grapelina, Susie Strawbella, Amanda Appletina, Belinda Banana Ana, Chelsea Cherry Lynn and Bonnie Bluebella, along with their pets in an all-new virtual environment at www.yummi-land.com, a place that's full of fun and happy surprises for all who visit!
"The Soda Pop Girls are making a big splash at retail nationwide and far exceeding our expectations. The excitement will continue through Fall and Holiday 06 when we will introduce the new Cream Soda Girls of Yummi-land, which I predict will be on every little girls wish list!" said MGA CEO Isaac Larian.
Each SODA POP GIRLS of YUMMI-LAND doll and her pet friend come in a collectable bottle in a 2-pk soda bottle carrier and retail for $9.99 each. Also included are fun accessories like a hairbrush, headband and purse w/flavored lip-gloss. Also available are two playsets for $16.99 each: the Pet Shop and the Soda Pop Shop, SODA POP GIRL included.
Another exciting new product from MGA Entertainment, inspiring children's imaginations worldwide with Innovation and Fun!