Don't Make Me Laugh Junior Game
A game that is sure to please.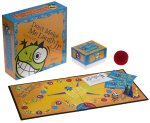 Doctor Toy's kudos as one of her top 10 games for kids and top 100 children's toys tops the accolades for this award winning game. Combining creativity and sound educational principles, this game has children racing from the Little Chuckle to the Big Guffaw. Along the way Ha Ha, Ho Ho, Hee Hee laughter cards prompt players, partners and sometimes the whole group to perform various improvisations such as: Pretend you are a sprinkler, Imitate your favorite teacher, Pick a player--Play a short tennis match, or Everyone do a Hula dance. The first player to the Big Guffaw wins the game, but everyone is a winner if he or she has fun laughing together. Jester cards add unexpected twists to the zany antics. Don't get lost in Lolo Land-- and no one ever knows who is going to wear the famous clown nose. Designed by teachers for kids 5 and up to play with kids and adults. This is a must game for all educational and game stores to carry. Received NAPPA award and used throughout San Diego Unified School district to help attain visual and performing arts curriculum goals. For 2-5 players.
The Role of NAPPA: National Parenting Product Awards as an Educational Organization
The National Parenting Product Awards (NAPPA) is an esteemed educational organization that focuses on identifying and recognizing high-quality products designed to enrich the lives of families and children. NAPPA's mission centers around providing parents and caregivers with trusted recommendations for products that contribute to the educational, developmental, and entertainment needs of children.
NAPPA achieves its mission through the following key initiatives:
Product Evaluation: NAPPA employs a rigorous evaluation process conducted by a team of expert judges, including educators, parents, and industry professionals. These judges assess products based on various criteria, including educational value, innovation, safety, and overall quality.
Award Recognition: Products that meet NAPPA's stringent standards are awarded the prestigious NAPPA seal of approval. This recognition serves as a trusted indicator for parents seeking products that align with educational goals and foster children's growth and development.
Resource for Parents: NAPPA serves as a valuable resource for parents and caregivers seeking guidance on selecting products that align with their values and educational aspirations. The organization's website, reviews, and recommendations offer insight into a diverse range of products, from toys and games to books and educational tools.
Advocacy for Children: By highlighting products that promote learning, creativity, and positive experiences, NAPPA advocates for children's well-rounded growth and education. The organization's efforts contribute to raising awareness about the importance of quality products in a child's life.
Community Engagement: NAPPA fosters a community of parents, caregivers, and industry professionals who share a commitment to enhancing children's lives through thoughtful and educational products. This community serves as a platform for sharing insights, recommendations, and experiences.
NAPPA's reputation as a reputable educational organization stems from its dedication to evaluating and promoting products that align with the needs and aspirations of families. Through its commitment to excellence, NAPPA continues to make a positive impact on children's education, development, and overall well-being.