Don't Make Me Laugh Junior Game
A game that is sure to please.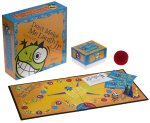 Doctor Toy's kudos as one of her top 10 games for kids and top 100 children's toys tops the accolades for this award winning game. Combining creativity and sound educational principles, this game has children racing from the Little Chuckle to the Big Guffaw. Along the way Ha Ha, Ho Ho, Hee Hee laughter cards prompt players, partners and sometimes the whole group to perform various improvisations such as: Pretend you are a sprinkler, Imitate your favorite teacher, Pick a player--Play a short tennis match, or Everyone do a Hula dance. The first player to the Big Guffaw wins the game, but everyone is a winner if he or she has fun laughing together. Jester cards add unexpected twists to the zany antics. Don't get lost in Lolo Land-- and no one ever knows who is going to wear the famous clown nose. Designed by teachers for kids 5 and up to play with kids and adults. This is a must game for all educational and game stores to carry. Received NAPPA award and used throughout San Diego Unified School district to help attain visual and performing arts curriculum goals. For 2-5 players.