E-Brain Personal Electronic Gizmo Organizer
Personal gizmo - dial phone numbers - wireless downloads - organizer for kids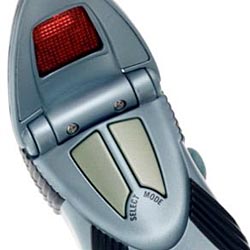 E-Brain Personal Organizer - In 2002, the e-Brain was an electronic personal organizer that could be programmed with a personality. It plays interactive games, stores your schedule and phone numbers, calls you by name, and can even be programmed to say certain phrases or play sound effects during different times of the day. It's wireless, so you don't need any cables or serial ports--just aim it at the computer screen to download the programming. It's small enough to fit in a coat pocket and has a handy clip if you want to wear it on your belt.
Build endless phrases for e-Brain to say from a vocabulary that includes nearly 2,000 words, letters, numbers, and sound effects
Drag and drop data for easy programming
Utilizes Timex Data Link system and patented technology for totally wireless PC connection; no wires to plug into the computer--simply point e-Brain at the screen, press download, and e-Brain receives the data instantly
CD-ROM contains eight activity menu screens
Works on all home PCs running Windows 95 or later
Stores and dials phone numbers
10 different fun games and activities
Completely portable e-Brain goes where you go.