Ekara Real Karaoke Headset E-Kara Duet
Ekara Headset Launched by Jamie Lynn Spears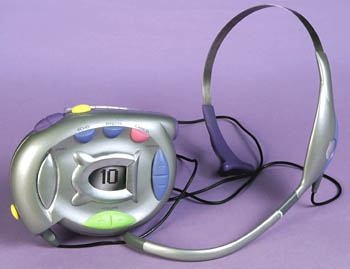 Girls who once dreamed of being their favorite pop star brought the fantasy and fun to life in 2001 when they took center stage with e-kara Real Karaoke from Hasbro. The portable and affordable hand-held karaoke system, first introduced in the U.S. in October, was a must have among tweens and teens, making e-kara one of the most sought after toys of the year. The party continues in 2002 with the introduction of a new hands-free headset system and a library of music cartridges featuring some of the hottest songs hitting the airwaves.
The success of U.S. launch of Ekara Real Karaoke Headset E-Kara Duet spawns new headset system and library of cartridges.
"Music has become an integral part of toys that are geared towards older, more elusive kids," says Jim Silver, co-publisher of Toy Wishes Magazine. "Its no surprise that e-kara had such a strong first year. Hasbro found success with Hit Clips and now with e-kara," Silver says. "E-kara definitely has the staying power to become a staple within the Hasbro portfolio."