Fashion Dolls
Bratz dolls increase in sales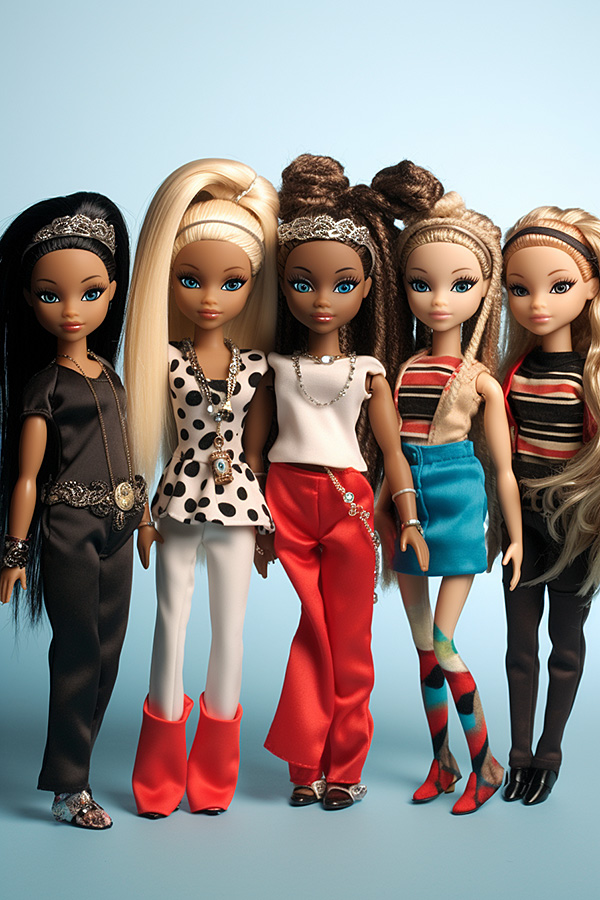 MGA's market share for the Fashion Doll category grew by 183% in August 2003 (31.7% market share) as compared to August 2002 (17.3% market share). MGA was also the fastest growing traditional toy manufacturer based on August 2003 vs. August 2002 dollar volume. More Importantly, MGA's market share in the Fashion Doll category jumped by 5.6% in August 2003 from July 2003, mostly at the expense of MGA's chief competitor in fashion dolls, Mattel.
MGA also grabbed 7 out of the 10 best selling products in the Fashion Doll category for August 2003 including the top 4 spots:
Bratz Fashion Dolls Assortment
Bratz Wintertime Wonderland Assortment (1st month of release)
Bratz Formal Funk Assortments (1st month of release)
Bratz Boyz Assortment
The Bratz Slumber Party assortment notched the #6 position, followed by Bratz Strut-It assortment at #7. The Bratz Holiday Sweet Heart, which was introduced in December 2002, was the 9th best selling fashion doll for the month. MGA also had 5 of the 10 best selling Fashion Doll Accessories for the month, including Bratz FM Cruiser (#1), Bratz Carrying Case (#2), the newly launched Bratz FM Limo (#4), Bratz Funky Furniture Assortment (#6), and Bratz Stylin' Hair Studio (#7).
In the Mini-Doll category, Lil' Bratz Pax became the 2nd best selling mini doll.
Overall, Bratz took 8 out of the Top 100 Overall Best Selling Toys in August 2003, ranked on dollar volume.
"I am very proud of our company's accomplishments," said Isaac Larian, CEO of privately held MGA Entertainment. "We see no signs of an economic downturn here at MGA, and our total business has grown into the triple digits from 2002. The best is yet to come, with the launch of new product lines over the coming months we are aiming to have a 50% market share in the fashion doll category by the end of 2003, and more in 2004."
The Success of Bratz Dolls
Bratz dolls, introduced in 2001 by MGA Entertainment, quickly became a cultural phenomenon and a major player in the toy industry. The success of Bratz dolls can be attributed to several factors that set them apart from traditional dolls and resonated with a wide audience:
Distinctive Style: Bratz dolls departed from the conventional, sweet-faced look of traditional dolls. With their oversized heads, almond-shaped eyes, full lips, and edgy fashion sense, Bratz dolls offered a fresh and contemporary aesthetic that appealed to tweens and young teenagers.
Empowerment and Individuality: Bratz dolls were marketed as confident and independent characters, each with their unique personality, interests, and style. This message of self-expression and individuality resonated with young girls who were seeking toys that reflected their own identities.
Emphasis on Friendship: The Bratz dolls came as a group of four diverse friends, fostering a sense of camaraderie and friendship. The dolls encouraged social play and imaginative storytelling, with the "Bratz Pack" concept allowing kids to create dynamic scenarios and adventures.
Trendsetting Fashion: Bratz dolls were known for their trendy and fashionable clothing, accessories, and footwear. The dolls were often ahead of the curve in terms of style, reflecting real-life fashion trends that captivated their target audience.
Interactive Play: Beyond the dolls themselves, the Bratz franchise extended to a range of accessories, playsets, and video games. This immersive world allowed children to engage in interactive play that went beyond simply dressing and styling the dolls.
Effective Marketing: MGA Entertainment utilized a savvy marketing strategy that included music, TV shows, movies, and collaborations with popular brands. The multimedia approach helped create a strong brand identity and establish Bratz dolls as a cultural phenomenon.
Appeal to Tween Market: Bratz dolls filled a gap in the market by catering to the tween demographic, offering an alternative to dolls that were considered too juvenile for older kids but too mature for younger ones.
Lifestyle Brand: The success of Bratz extended beyond the dolls themselves, with the brand branching into various products such as clothing, accessories, and even cosmetics. This helped solidify Bratz as a lifestyle brand that resonated with its audience's interests and aspirations.
Controversy and Popularity: Despite facing controversy and legal challenges from other toy manufacturers, the attention generated by these controversies only fueled the popularity of Bratz dolls, making them even more sought after by collectors and children alike.
The Bratz phenomenon demonstrated that there was a demand for dolls that embraced diversity, individuality, and contemporary trends. By tapping into the desires of the tween and young teenager demographic, Bratz dolls not only achieved commercial success but also left a lasting impact on the toy industry and popular culture.