Barbie Styles for Two
Back to School and Going Out Styles for 2 Fashion Fever Barbie dolls come with real accessories for the girl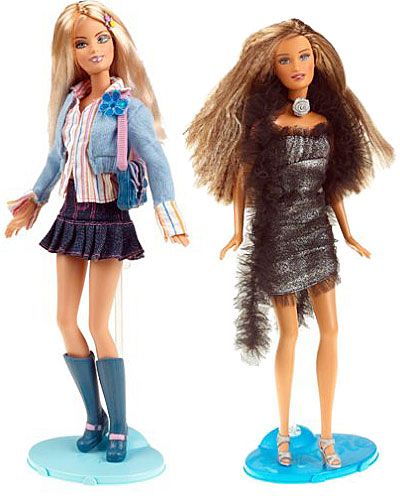 Barbie doll comes dressed in an adorable outfit and ready for school. She comes with a pink fuzzy notebook, eraser and pencils with matching gifts for the girl. Outfit styles and colors may vary. Teresa doll wears an on-trend glamour outfit for going out with matching fashion accessories for the girl to wear. There is a barrette and compact that looks like a purse. Accessories include choker, purse, bracelet, barrette, and faux tattoos. Doll can also wear other Fashion Fever outfits, available separately. She has posable limbs. High-fashion Barbie with glamorous clothes and accessories. Includes matching accessories for a girl to wear.
Barbie's Constellation of Friends: A Diverse Array of Doll Companions
Barbie, the iconic fashion doll introduced by Mattel in 1959, is not just a standalone figure; she has been surrounded by a diverse and extensive cast of friends that form a constellation of characters in the Barbie universe. These friends reflect a range of personalities, professions, cultures, and backgrounds, enriching the imaginative play experience for children. Here's a glimpse into Barbie's constellation of friends:
Midge: Midge is one of Barbie's earliest companions, introduced in 1963 as Barbie's best friend. Over the years, Midge's character has evolved, and she has been portrayed in various professions and life stages, contributing to the narrative diversity of the Barbie world.
Ken: Ken, Barbie's longtime boyfriend introduced in 1961, is a staple in the lineup of Barbie's friends. His presence adds a dynamic dimension to Barbie's social interactions and allows for various storytelling possibilities.
Teresa: Teresa is another of Barbie's close friends, known for her athleticism, creativity, and adventurous spirit. She brings her unique personality and interests to the group, offering children the chance to explore different hobbies and activities.
Christie: Christie, introduced in 1968, is known for her warm and friendly personality. As one of Barbie's first African American friends, Christie's presence underscores the importance of diversity and representation in the Barbie universe.
Raquelle: Raquelle, introduced in the 2000s, adds a touch of drama and glamour to the group. Her fashionable and sometimes competitive nature offers a different perspective on friendship and social dynamics.
Summer: Summer, introduced in the late 2000s, is portrayed as a cheerful and outgoing friend. She often participates in outdoor and sporty activities, encouraging children to explore a range of interests.
Nikki: Nikki, introduced in 2007, is one of Barbie's modern friends who values environmental awareness and social justice. Her character reflects the changing attitudes and values of a new generation of children.
And Many More: Barbie's constellation of friends extends beyond these examples, featuring an array of characters with diverse backgrounds, professions, and personalities. From scientists and explorers to artists and entrepreneurs, Barbie's friends inspire children to dream big and explore different paths in life.
The inclusion of a diverse group of friends in the Barbie lineup allows children to engage in imaginative play that reflects the real world's diversity and complexity. Each friend brings a unique perspective to the Barbie universe, fostering creativity, empathy, and understanding as children explore a variety of stories and scenarios.