Color Me Gems
Color, design, create, and sparkle with Fisher-Price Color Me Gemz purse and jewelry box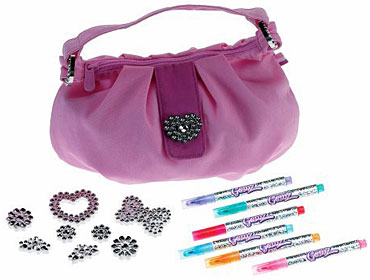 Bling your purse, your hat, and your jewelry box. There is no such thing as too much bling. Color Me Gemz lets girls create fashionable gems that they can color themselves to wear or personalize all their things. You can gem your purse for a great new look. The Color Me Gems Jewelry Box is everything a girl needs to store her treasures, gems, and jewelry. Use the ten decorative sticky gems or markers to add some sparkle to the jewelry box. And the gems can even be colored with the for Color Me Gems marker pens. Jewelry box has a main compartment with mirror, two drawers, and two side compartments for ultimate storage and comes with one necklace set, one bracelet set, gems, and a fairy/ballerina gem.
Fashion playsets that allow you to color gems and add them to accessories offer a delightful and creative experience for individuals of all ages. These playsets combine the joy of crafting, customization, and accessorizing, making them a captivating activity with numerous benefits. Here's why fashion playsets with colorful gems are so much fun:
Creative Expression: Designing and coloring your own gems allows you to unleash your creativity. You can experiment with different color combinations, patterns, and styles to create accessories that reflect your unique taste and personality.
Personalized Accessories: With these playsets, you can create accessories that are truly one-of-a-kind. Adding your custom-colored gems to bracelets, necklaces, and hair accessories ensures that your style stands out and matches your preferences.
Sensory Engagement: The tactile experience of coloring gems and attaching them to accessories engages your senses and provides a hands-on activity that's both satisfying and immersive.
Motor Skills Development: As you color gems and attach them to accessories, you're engaging in fine motor skill development. The precise movements required for coloring and placing gems contribute to hand-eye coordination and dexterity.
Instant Gratification: Seeing your gems take shape and adding them to accessories offers a sense of immediate accomplishment. It's a gratifying experience that boosts your self-esteem and encourages you to keep creating.
Imaginative Play: Fashion playsets encourage imaginative play as you envision different ways to use the colored gems. You can mix and match colors, create themed accessories, and even design pieces inspired by your favorite characters or stories.
Shared Activity: Fashion playsets are ideal for collaborative and social play. Friends and family members can join in the fun, sharing design ideas, trading gems, and creating accessories together.
Accessory Rotation: As you color and attach gems, you'll have the opportunity to refresh your accessory collection. You can easily swap out gems to match different outfits or occasions, adding versatility to your style.
Encourages Experimentation: These playsets inspire you to experiment with various color combinations and gem placements. You can explore different techniques, from creating gradients to arranging gems in intricate patterns.
Creative Confidence: Designing and decorating your accessories fosters creative confidence. You'll gain a sense of pride in wearing accessories that you've customized and designed yourself.
Fashion playsets with colorful gems offer a fusion of artistic expression, customization, and fashion, making them a captivating and enjoyable activity for individuals who love crafting, accessorizing, and embracing their creative side.