Baby Blocks
Baby's First Blocks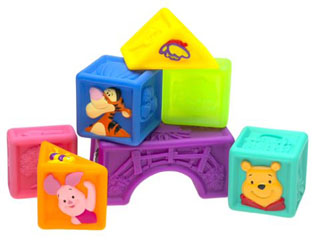 By handling and stacking blocks, babies learn so much--from what the different shapes feel like to how they fit together to what causes them to topple--and all the while, they are developing critical fine motor skills. These Winnie-the-Pooh soft blocks are shaped and sized just right for babies, encouraging plenty of experimentation. The set includes seven blocks: an arch (which makes a great base, bridge, or tunnel), two cubes, two pyramids, and two half-cubes . The blocks sport interesting colors such as neon green, magenta, and teal, in addition to some standard primary colors, and they feature familiar faces and objects from the Hundred Acre Woods. The soft, rounded corners are great for babies who are still in the oral exploration stage, and for added interest, the blocks squeak when squeezed and give off a distinct, but not overpowering, baby-powder scent.
Multi-shaped, multi-colored baby blocks are educational tools that contribute significantly to a child's cognitive, physical, and emotional development. Below are some of the key learning benefits:
Cognitive Skills: Sorting blocks by shape and color helps babies develop classification skills, an essential cognitive function. It stimulates their problem-solving abilities as they figure out how to stack blocks or fit them into corresponding slots.
Motor Skills: Picking up, gripping, and releasing blocks enhances fine motor skills. Stacking them helps improve hand-eye coordination and introduces the basic concepts of balance and gravity.
Color and Shape Recognition: Multi-colored blocks provide an opportunity for babies to learn different colors, aiding visual development. Similarly, blocks of varying shapes introduce geometry fundamentals and spatial awareness.
Language Development: As parents talk about the attributes of blocks (e.g., "red square," "blue circle"), babies pick up new vocabulary words and begin to understand descriptive language.
Social Skills: Blocks can also be a social tool. When played in groups, they encourage sharing, cooperation, and turn-taking, helping children to develop crucial social skills for later life.
Creativity and Imagination: There's no limit to what can be built with blocks, from towers to bridges to castles. This open-ended play encourages creativity and imagination.
Multi-shaped, multi-colored baby blocks are miniature educational powerhouses that boost various aspects of a child's development, making them an essential addition to any toddler's playtime repertoire.