Fisher Price Baby Monitor
This monitor by Fisher-Price comes with 2 dual receivers so you have twice the convenience.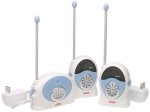 The receivers feature clear reception to pick up quiet noises while Baby is sleeping and 2 channels to minimize interference. The variable light display shows you when Baby is active. Features a low-battery indicator, power indicator, belt clips on the receivers and volume control with automatic gain control to regulate background noise. Also includes 3 AC/DC adapters, durable antennas, on/off switch and a 2-crystal design to eliminate cross talk. Indoor/outdoor use. White with light blue accents. This thoughtfully designed Fisher Price Baby Monitor provides two distinct advantages over the traditional single-receiver monitor: it comes with two receivers so parents and caretakers can listen in on baby from more than one location in the house at the same time, and the variable light displays on both receivers make it possible for you to monitor the noise coming from baby's room visually, without actually hearing it. Along with a power-indicator light, the monitor is equipped with two separate channels and both receivers can be powered by the included AC adaptors, or 9-volt batteries when you want to move the receivers away from an electrical outlet. Fisher Price Baby Monitor comes with a one-year limited warranty and three AC adaptors, but you will have to purchase the two 9-volt batteries separately if you plan on using the receivers away from an outlet.