Fisher Price Baby Monitor
This monitor by Fisher-Price comes with 2 dual receivers so you have twice the convenience.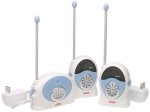 The receivers feature clear reception to pick up quiet noises while Baby is sleeping and 2 channels to minimize interference. The variable light display shows you when Baby is active. Features a low-battery indicator, power indicator, belt clips on the receivers and volume control with automatic gain control to regulate background noise. Also includes 3 AC/DC adapters, durable antennas, on/off switch and a 2-crystal design to eliminate cross talk. Indoor/outdoor use. White with light blue accents. This thoughtfully designed Fisher Price Baby Monitor provides two distinct advantages over the traditional single-receiver monitor: it comes with two receivers so parents and caretakers can listen in on baby from more than one location in the house at the same time, and the variable light displays on both receivers make it possible for you to monitor the noise coming from baby's room visually, without actually hearing it. Along with a power-indicator light, the monitor is equipped with two separate channels and both receivers can be powered by the included AC adaptors, or 9-volt batteries when you want to move the receivers away from an electrical outlet. Fisher Price Baby Monitor comes with a one-year limited warranty and three AC adaptors, but you will have to purchase the two 9-volt batteries separately if you plan on using the receivers away from an outlet.
The Evolution of Baby Monitors
Baby monitors have come a long way since their introduction, evolving from simple audio devices to sophisticated gadgets with a host of features designed to ensure a child's safety and a parent's peace of mind. Below is an overview of their transformation:
Audio Monitors: The earliest baby monitors were audio-only devices that allowed parents to listen in on their baby from another room. These rudimentary systems were essentially walkie-talkies repurposed for childcare.
Video Monitors: The next leap came with the integration of video capabilities. These monitors not only captured sound but also provided real-time video feed, allowing parents to visually check on their baby.
Wireless Connectivity: With the advent of wireless technology, monitors became more portable and convenient, freeing parents from a tangle of cords and expanding the range of monitoring.
Smart Monitors: The rise of smartphones and apps led to smart monitors that can be controlled remotely. These devices send alerts to parents' phones and often come with features like temperature and humidity sensors.
Motion Sensors and Wearables: Some modern monitors include motion sensors that alert parents if no movement is detected for a set period. Wearable monitors that attach to a baby's clothing or skin can even track vital signs like heart rate and oxygen levels.
Cloud Storage and Sharing: Many of today's baby monitors offer cloud storage options for video and audio recordings. Some also offer secure sharing features, so family members or caregivers can also keep an eye on the baby.
Integration with Smart Home Systems: The newest generation of baby monitors can be integrated into smart home systems, allowing parents to control them via voice commands or through other smart devices.
Baby monitors have evolved from simple listening devices to multi-functional systems that offer a range of features to keep babies safe and parents connected. As technology continues to advance, we can only expect these devices to become even more versatile and intelligent.