Fisher Price Cars and Trucks
Voice Tech Rescue Heroes Police Car.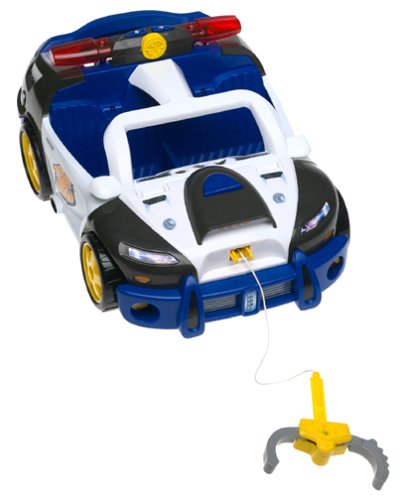 Bring preschool rescue missions to life with this rough-and-tumble Rescue Heroes police cruiser. Fully equipped with realistic flashing lights and authentic sound effects (including an emergency siren, driving sounds, and blaring horns), the police car also sports some snazzy Rescue Heroes detailing, and you can slide any Voice Tech Rescue Heroes figure (sold separately) into the slot on the back of the driver's seat to hear the figure give special instructions, like "Copy that," "Alert 10-4," "I hear you Sir, we're on our way," and "Danger!" The car recognizes which Rescue Hero figure is positioned in either seat, and when you place two Voice Tech Rescue Heroes in the car, the two voices rotate back and forth in conversation. Made of durable plastic, this blue and white police car has all-terrain wheels and a giant handcuff on the front bumper to capture bad guys when you are out on patrol. Mission impossible is impossible no longer. Requires three AA batteries (not included).