Fisher Price High Chair
The healthy care fisher high chair is safe and comfortable.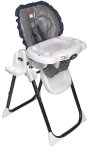 While a good highchair is first and foremost a safe and comfortable place for baby to enjoy meals, these specialized dining chairs should also be convenient and easy to use for parents and caretakers. The Healthy Care highchair successfully meets both criteria. Balanced on a thick metal frame, the chair has a stable feel, and you can easily adjust the chair's padded seat to one of seven different heights and one of three different angles of recline. One of the chair's nicest features is the removable insert that pops into the larger food tray. With smaller dimensions and a lower profile than the larger tray, parents can easily remove this inner tray and stick it in the dishwasher for a more thorough cleaning. The chair comes with a five-point harness and a T-bar restraint under the tray, and a detachable cup holder latches onto either side of the chair, providing a convenient place to position bottles or sippy cups for postmeal refreshment. When mealtime is over, pull the frame release latch on the side of the chair and it will fold nearly flat for compact storage.