Fisher Price High Chair
The healthy care fisher high chair is safe and comfortable.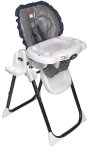 While a good highchair is first and foremost a safe and comfortable place for baby to enjoy meals, these specialized dining chairs should also be convenient and easy to use for parents and caretakers. The Healthy Care highchair successfully meets both criteria. Balanced on a thick metal frame, the chair has a stable feel, and you can easily adjust the chair's padded seat to one of seven different heights and one of three different angles of recline. One of the chair's nicest features is the removable insert that pops into the larger food tray. With smaller dimensions and a lower profile than the larger tray, parents can easily remove this inner tray and stick it in the dishwasher for a more thorough cleaning. The chair comes with a five-point harness and a T-bar restraint under the tray, and a detachable cup holder latches onto either side of the chair, providing a convenient place to position bottles or sippy cups for postmeal refreshment. When mealtime is over, pull the frame release latch on the side of the chair and it will fold nearly flat for compact storage.
What to Look for in a Quality High Chair for Babies
When it comes to choosing a high chair for your baby, several key factors can guide your decision to ensure safety, convenience, and comfort. Here's a list of things to consider:
Safety Features: Safety should be your top priority. Look for high chairs with a sturdy construction that won't easily tip over. A 5-point safety harness is preferable to keep your baby securely in place. Also, ensure the chair has locking mechanisms for any movable parts.
Adjustability: Children grow quickly, so a high chair that can adapt to different stages of development is a smart choice. Some high chairs offer adjustable seat heights and reclining positions, which can be particularly useful for younger babies.
Easy to Clean: Babies are messy, so opt for a high chair that is easy to clean. Removable and washable seat covers, as well as wipeable trays, are features that can make your life easier.
Portability: If you travel often or have limited space, a foldable high chair might be ideal. Some high chairs can even be disassembled to take along on trips.
Comfort: Your baby will be spending a fair amount of time in the chair, so it should be comfortable. Padded seats and backrests can add extra comfort, but make sure the materials used are non-toxic and safe for babies.
Extra Features: Some high chairs come with additional features like toy attachments, cup holders, or wheels for easy movement. While not strictly necessary, these can add convenience and functionality.
Design and Aesthetics: While secondary to safety and functionality, you might also want a high chair that fits with your home's decor. There's a wide range of designs and materials to choose from, including modern, minimalist options and more traditional wooden chairs.
Reviews and Recommendations: Finally, it's always a good idea to read product reviews and perhaps seek recommendations from friends or family who have young children. Their experiences can provide valuable insights into how the chair performs in everyday use.
A good high chair should combine safety, comfort, and functionality, adapting to your child's needs as they grow. Extra features and design elements are nice to have but should not compromise the fundamental requirements.