Fisher Price Little People Farm
Little People Animal Sounds Farm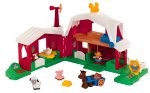 Come on down to the Lil' People Animal Sounds Farm from Fisher-Price. There's a 12-by-12-inch, red and white barn that unfolds to create a down-home country scene complete with a pig, a sheep, a chicken, a horse, and a cow. Also included are a scarecrow, a farmer kid, and plenty of farm implements to keep him busy. Lots of sounds come from different parts of the barn: music, clucking, and an occasional oink. Children love to imitate animal sounds, and Fisher-Price's Animal Sounds Farm will help them learn. This interactive Little People farm has so much to see and do! Put the horse in his stable and hear him neigh. The sheep in the grass answers with a baaaaa. The cow moos contentedly, the chicken clucks in her nest and the pig oinks.
Why Children Like Playsets About Farms
Farm-themed playsets have long been popular among children for various compelling reasons. From interacting with miniature barns and tractors to playing with toy animals, these playsets offer a multitude of opportunities for fun and learning. Here are some reasons why farm playsets captivate young imaginations:
Animal Attraction: Children are naturally drawn to animals, and farm playsets often include a range of toy livestock like cows, pigs, horses, and chickens. This offers children the chance to learn about different animals, their sounds, and their roles on a farm.
Imaginative Play: Farm playsets provide a rich setting for imaginative role-playing. Kids can pretend to be farmers, veterinarians, or even the animals themselves, exploring various scenarios and creating their own farmyard stories.
Life Skills: Playing with a farm set can introduce children to the concepts of responsibility and care, as they "feed" the animals, "milk" the cows, or "harvest" the crops. These activities can lay the groundwork for understanding life skills and responsibilities.
Real-world Learning: Farm playsets can be educational, helping children understand where their food comes from and introducing them to agricultural practices. This can be an eye-opening experience that supplements what they learn in school about farming and food production.
Motor Skills: These playsets often come with various movable parts like gates, levers, and small farming equipment, helping children improve their fine motor skills and hand-eye coordination.
Social Interaction: Farm playsets are often expansive enough to support group play, helping children develop social skills like sharing, negotiating, and taking turns as they manage the "farm" collaboratively.
Parent-Child Bonding: These playsets offer a great platform for parent-child interaction. Parents can seize the opportunity to engage in storytelling or question-and-answer sessions that make playtime both fun and educational.
Endless Entertainment: The numerous elements in a farm playset—from tractors to barns to different types of animals—provide countless options for play, ensuring that children remain engaged and entertained for extended periods.
Farm playsets offer an engaging blend of entertainment and educational value, making them a hit with both kids and parents alike.