Fisher Price Musical Stacker
The classic fisher price stacking toy with the addition of music.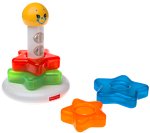 Rather than the typical, uncomplicated tunes of friendly nursery songs, such as Baa, Baa Black Sheep, this sparkling star stacker plays the stimulating and sophisticated music of Beethoven and Mozart. Babies simply push down on the friendly yellow face that presides on top of this stack of stars, and a selection of classical melodies rings forth. And each time babies lift a shimmering plastic star from the stacking pole or replace one, they are rewarded with magical sweeps of music that gush from the pole, as twinkling lights flash on and off. The curved base makes the stacker (approximately 9 inches high) easy to rock, and helps prevent tip-overs. This colorful toy offers auditory stimulation and develops eye hand-eye coordination and sorting skills. With this new innovative musical toy, infants can not only stack the star shaped sparkling rings on the roly poly base, but also create a musical piece as they stack them. Plus when baby puts the smiling faced block on top it plays one of five songs, including classical music, or one of three sparkling sound effects.
Stacking toys with built-in musical features offer a multi-sensory experience that goes far beyond simple stacking activities. Here's why these toys are especially enjoyable and beneficial for babies:
Visual and Auditory Stimulation: Combining the action of stacking with the joy of music offers a dual sensory experience. Babies get to appreciate various colors and shapes visually while also enjoying auditory stimulation from the musical elements.
Motor Skills Development: Stacking toys in general help in developing fine motor skills and hand-eye coordination. Adding music to the mix makes the activity even more engaging, encouraging babies to continue stacking and rearranging, which further aids motor skills.
Rhythmic Awareness: The musical features in these stacking toys introduce babies to the concept of rhythm and melody. This can be a foundational step toward a lifelong appreciation of music and may even enhance rhythmic and timing skills.
Cognitive Development: The combination of stacking and music requires a level of cognitive coordination that challenges and thereby aids in the mental development of babies. It encourages them to think about sequencing, cause and effect, and problem-solving.
Emotional Comfort: Many babies find music comforting or soothing. When a familiar tune plays as they successfully stack a piece, it serves as positive reinforcement that makes the experience emotionally rewarding.
Social Skills: These musical stacking toys can also serve as a social activity. Parents or caregivers who sing along or dance to the music can make the playtime more interactive, helping babies develop social cues and bonding with them.
Entertainment Value: Let's not forget the sheer joy and fun that music and stacking combined can bring to a baby. The vibrant colors, intriguing shapes, and delightful sounds can keep a baby entertained for long periods, providing much-needed respite for parents as well.
Musical stacking toys are a bundle of joy and learning rolled into one, offering a wide range of developmental benefits while ensuring babies are thoroughly entertained.