Fisher Price Musical Stacker
The classic fisher price stacking toy with the addition of music.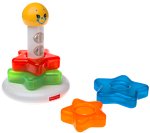 Rather than the typical, uncomplicated tunes of friendly nursery songs, such as Baa, Baa Black Sheep, this sparkling star stacker plays the stimulating and sophisticated music of Beethoven and Mozart. Babies simply push down on the friendly yellow face that presides on top of this stack of stars, and a selection of classical melodies rings forth. And each time babies lift a shimmering plastic star from the stacking pole or replace one, they are rewarded with magical sweeps of music that gush from the pole, as twinkling lights flash on and off. The curved base makes the stacker (approximately 9 inches high) easy to rock, and helps prevent tip-overs. This colorful toy offers auditory stimulation and develops eye hand-eye coordination and sorting skills. With this new innovative musical toy, infants can not only stack the star shaped sparkling rings on the roly poly base, but also create a musical piece as they stack them. Plus when baby puts the smiling faced block on top it plays one of five songs, including classical music, or one of three sparkling sound effects.