Fisher Price Stand Alone Portable Baby Swing
All the features of a full-size baby swing in a compact, portable design.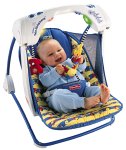 This Deluxe Take-Along Swing has all the features of a full-size swing in a compact and portable design. Perfect for parents on-the-go, it has a convenient carrying handle that can be used even with Baby seated. Baby's sense of sight, sound and touch will be stimulated with twinkling lights, hanging toys and 5 fun songs. Volume-controlled music activates when Baby or parents pull on the brightly colored toys. Other features include nonslip feet to hold the swing in place and machine-washable plush padding. A carry handle enables mom to carry the swing--even with baby seated inside. The swing comes with six entertaining classical and lullaby songs with twinkling lights for baby's entertainment. Baby can pull on toys to activate music and lights or the swing can be set on continuous play.