Drop and Roar Dinosaur
Fisher-Price learning infant playset with roll around friends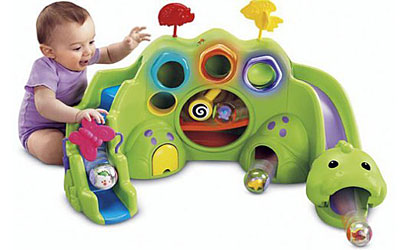 Fisher-Price learning infant playset features a dinosaur theme and four roll around toy friends for baby. Color coordinated ball drops and ramps allow baby to follow the rounds down one of four paths accompanied by three colored lights and lively tunes. The blue path sends the round sliding down the dinosaur's tail. The yellow path is a drop through chute. The orange path features ramps and a swinging pendulum. The purple path sends the round down the dinosaur's neck, where the round comes rolling out the mouth as the toy dinosaur roars. There are busy activities that add to the play, including a twirling butterfly and a rattle bird. Ten songs and five sound effects encourage and entertain baby. Little baby creatures have unique actions.
Why Children Like Dinosaur-Themed Toys
The fascination children have with dinosaurs often seems as enormous as the prehistoric creatures themselves. There are several reasons why dinosaur-themed toys are so popular among kids:
Adventure and Exploration: Dinosaurs transport children to a world vastly different from their own, one filled with adventure and discovery. Whether they are playing with dinosaur figurines or digging up faux fossils, kids become explorers in a lost world.
Scale and Majesty: The sheer size and grandeur of dinosaurs, from towering long-necked sauropods to fearsome T-Rexes, capture children's imaginations in a way few other creatures can. The idea that such enormous animals once roamed the Earth is awe-inspiring.
Empowerment: Playing with dinosaur toys often puts children in roles of authority and expertise. They become the "knowledgeable guides" in a Jurassic world, which can be empowering.
Learning and Education: Dinosaur toys can be incredibly educational. They can teach children about history, evolution, and science, nurturing an early love for learning. Many dinosaur toys come with informational guides or interactive apps that enhance the educational value.
Role-Playing and Storytelling: Dinosaurs offer rich opportunities for creative storytelling and role-playing. Whether children are directing a battle between herbivores and carnivores or embarking on a time-traveling adventure, the scenarios are limitless.
Social Interaction: Because dinosaur-themed play is so engaging, it's often a social activity. Children can share their toys and their knowledge, playing together in ways that help them learn important social skills like cooperation and sharing.
With the combination of adventure, learning, and the inherent intrigue of these prehistoric giants, it's easy to see why dinosaur-themed toys have such a timeless appeal for children.