Elmo's Musical Gym
Peek-a-boo baby activity center with hanging toys and Sesame Street characters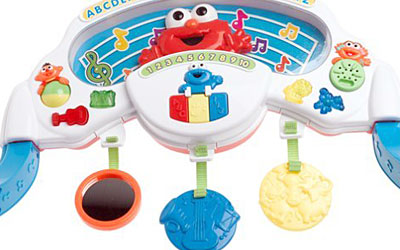 Elmo's Musical Peek-a-Boo Gym features over forty songs, phrases, and sounds in three modes of play. Stimulating features include hanging toys to bat, blinking piano keys, and spinning dial. Elmo and other Sesame Street characters will randomly play Peek-A-Boo with baby. May be adjusted for the sitting baby activity center detaches for easy take-along fun. In Calm Mode, baby can bat at any of the three hanging toys and Elmo will come to life gently rocking back and forth to a melody. In Gym Mode, baby can bat at any of the three hanging toys and Elmo will come to life along with music and lights. Angle the arch down for Sit-At Mode where baby can play with the light-up piano keys, light-up buttons, roller ball and spinning dial bringing Elmo to life along with music, character phrases, and lights.
Partnership Between Sesame Street and Fisher-Price
The collaboration between Sesame Street and Fisher-Price has been a paradigm of success in the realm of children's educational toys. This partnership has blended the educational potency of Sesame Street's content with Fisher-Price's expertise in crafting high-quality, durable toys.
Brand Synergy: Both Sesame Street and Fisher-Price are trusted brands in their own right. Sesame Street is renowned for its educational content, while Fisher-Price is celebrated for its safe and reliable toys. The merger of these two entities created a brand synergy that parents feel confident supporting.
Educational Value: Sesame Street's mission has always been educational enrichment. Fisher-Price has capitalized on this by developing toys that not only entertain but also educate. Whether it's a talking Elmo doll that teaches the alphabet or a Count von Count toy that helps with numbers, the educational value is at the forefront.
Character Familiarity: Characters like Elmo, Big Bird, and Cookie Monster are beloved figures in children's entertainment. Fisher-Price's utilization of these characters in their toys makes the products immediately appealing to children, encouraging them to engage more deeply in play and learning.
Quality and Durability: Fisher-Price toys are known for their durability, which is a critical factor for parents. Toys that can withstand the rigors of enthusiastic play while maintaining their educational features offer long-term value.
Innovation: The partnership has also led to innovative products that integrate technology, such as interactive apps that go along with the toys, to augment the learning experience.
Longevity: Due to the timeless appeal of Sesame Street's characters and the evergreen need for educational toys, products from this collaboration have a longer shelf life compared to trend-driven toys.
The blend of education, quality, and the magic of well-known characters has made the partnership between Sesame Street and Fisher-Price an enduring success, providing generations of children with toys that entertain, educate, and inspire.