Foil Magic
Foil Magic Starter Kit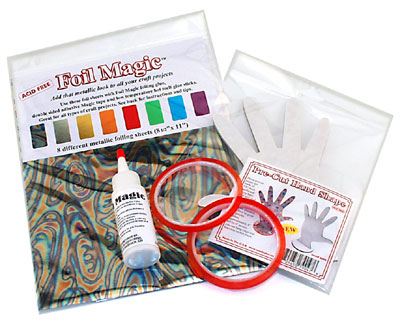 Foil Magic starter kit includes one foil magic foil pack, foil magic glue gun, two different sizes of magic tape, and a pre-cut cardboard hand.
Foil-based art kits offer a unique, tactile, and visually stimulating experience that sets them apart from traditional painting or drawing kits. Below are some of the reasons why these kits bring so much fun and excitement:
Textural Exploration: The foil adds an intriguing textural component that's a departure from the flatness of paper. Children can feel the different textures as they manipulate the foil, adding a sensory dimension to their creative experience.
Metallic Shine: The reflective quality of foil creates a shiny, eye-catching effect. This gives the art a special 'pop' that can be very satisfying for children, making their creations stand out.
Immediate Results: Working with foil often provides immediate, visually striking results. This is rewarding and encourages kids to continue experimenting and creating.
Enhanced Creativity: Foil can be twisted, crumpled, folded, or flattened, offering endless possibilities for artistic expression. Children can make everything from abstract designs to detailed scenes or characters.
Layering Opportunities: Many foil art kits come with different colored foils, allowing kids to layer colors and create complex multi-colored designs, thereby deepening their understanding of color theory and mixing.
Low-Mess Activity: Unlike paint or glue, foil doesn't create much mess, making cleanup easier and allowing kids more freedom to create without worrying about spills.
Accessible: Foil-based art kits are generally easy to use, requiring minimal setup and no special skills. This makes them accessible and fun for kids of various ages and skill levels.
A foil-based art kit serves as an excellent platform for creativity, sensory exploration, and artistic skill development, all while providing the sheer joy of creating something beautiful and unique.